Women's Epee Teams after Barcelona: USA Locks Qualification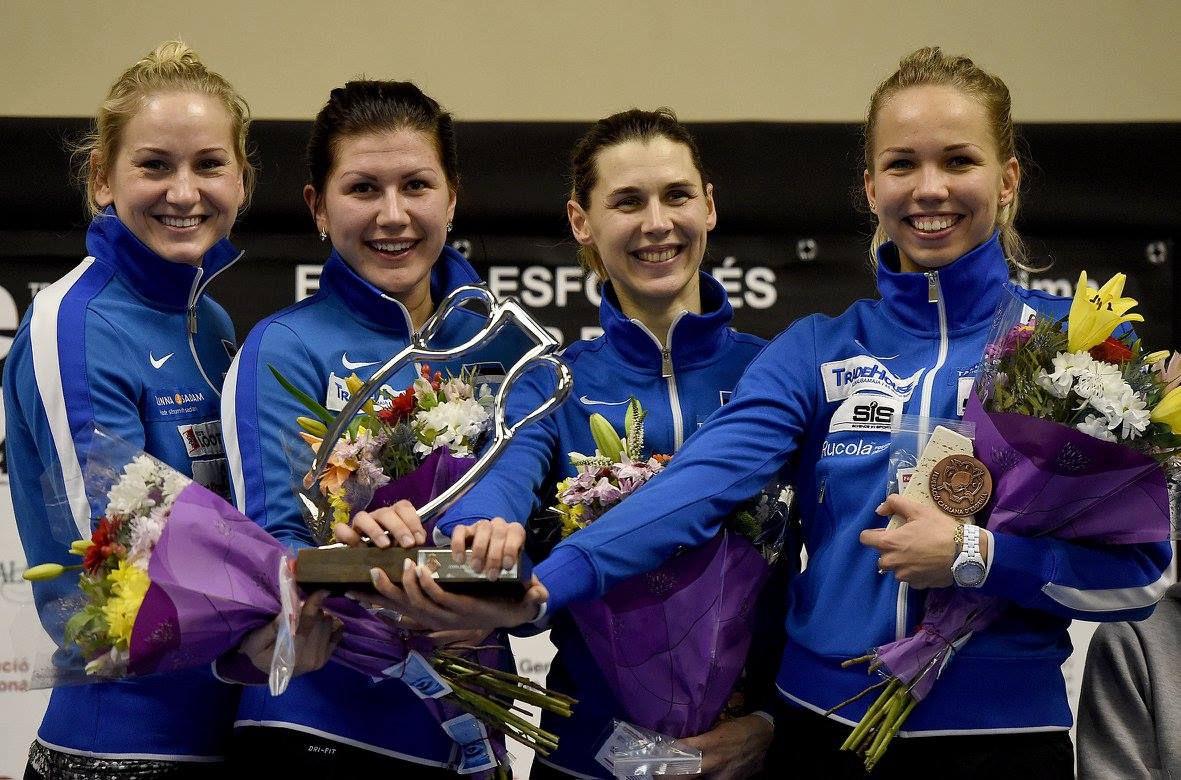 The 4th World Cup of the Olympic Qualification Season asks which countries would be able to step up and join the teams already qualified for Rio: CHINA, ROMANIA and RUSSIA. In Barcelona, that team was ESTONIA – rocketing to 4th place on the ranking with a stunning victory.
So then the real question becomes which team will finish in 4th place, because we have 3 contenders from 3 different zones.
This is a regular update column from David Baker who has been maintaining a tracking list of the points earned by individuals and teams for Olympic Fencing Qualification. You can read how fencers and teams qualify for the Olympic Games in our Road to Rio Primer.
My prediction is that SOUTH KOREA will move into 4th, as they have a very low 4th result (8 points) to improve on. If they finish 13th or better in Buenos Aires they could move into the top 4 – assuming other teams don't improve. This would mean JAPAN would qualify, and there would be one fewer place for European teams.
If the USA finish at least 7th in Buenos Aires then they could move into the top 4, which would mean VENEZUELA qualifies and there would be one fewer place for European teams. Regardless, the USA are qualified as they are well ahead of their regional competition so the only question is if the US can move up enough to let another team from the PanAmerica region in.
But as it stands, ESTONIA qualify in 4th. This means there are 2 other places available for European teams: the zonal place currently goes to FRANCE and the extra place to UKRAINE. Italy are close behind and will need 28 points (7th) to move into the qualification places, assuming that UKRAINE don't improve on their 4th result (13th). The better UKRAINE do in Buenos Aires, the better ITALY will have to do.
It's probably worth noting that if ITALY or UKRAINE win in Buenos Aires then they could move into 4th for the same outcome, just a different order of teams. It is also still possible for SWEDEN to qualify but they will need a silver medal at least and a European team in 4th.
Most importantly – if SOUTH KOREA or the USA finish 4th, then ESTONIA and FRANCE are currently the two qualified teams. UKRAINE need to finish at least 7th to overtake FRANCE; ITALY would have to finish 4th to overtake both UKRAINE and FRANCE (always assuming that none of the other teams improve their 4th place).
If you're still reading this, I'm impressed! Women's Epee is probably going to be the most complicated of all the weapons.
Here's the chart of the current Adjusted Olympic Rankings for Women's Team Epee: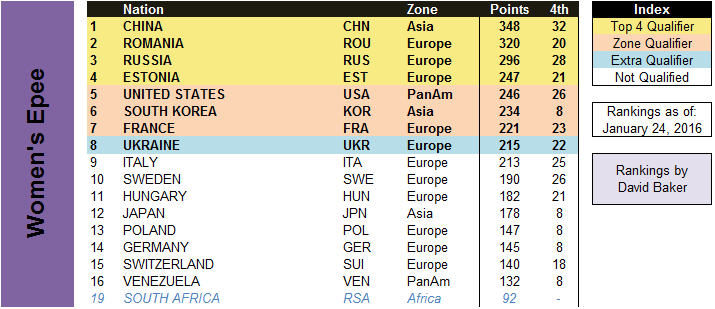 Race for Women's Epee Individual Qualification
Maria NAVARRIA (ITA) won her second world event in a row, but that will all be in vain unless ITALY can qualify as a team. I don't think Maria will be able to catch World Champion Rossella FIAMINGO (ITA) unless her golden streak continues.
Given the three European teams in the top 4 – the second European place will be taken by Emese SZASZ (HUN) unless Emma SAMUELLSON (SWE) can finish the season strongly. Emma could qualify automatically if ITALY qualify as a team.
World number 2 Sara BESBES (TUN) will take the African zone qualification place. Interestingly, TUNISIA would probably have qualified a team if they were entering competitions after winning the African championships.
In the Asian zone, given the team standings, SHIMOOKAWA Ayaka (JPN) and Vivian KONG (HKG) will qualify. If SOUTH KOREA perform well in Buenos Aires and finish in the top 4 of the team rankings, then JAPAN would qualify as a team – opening up another zonal qualification place for Asia. That place is currently held by Jo HALLS (AUS) on 25 points (61st), but Assel ALIBEKOVA (KAZ) is only 4 points away.
In the Pan-Am zone, the impact of the UNITED STATES dropping outside of the top 4 is that VENEZUALA drop out of both team and individual qualification. Nathalie MOELLHAUSEN (BRA) will take the first zonal place. Leonora MACKINNON (CAN) has an imposing 10 point lead over Yamilka RODRIGUEZ QUESADA (CUB) and 11.5 points over Eliana VAGO (VEN).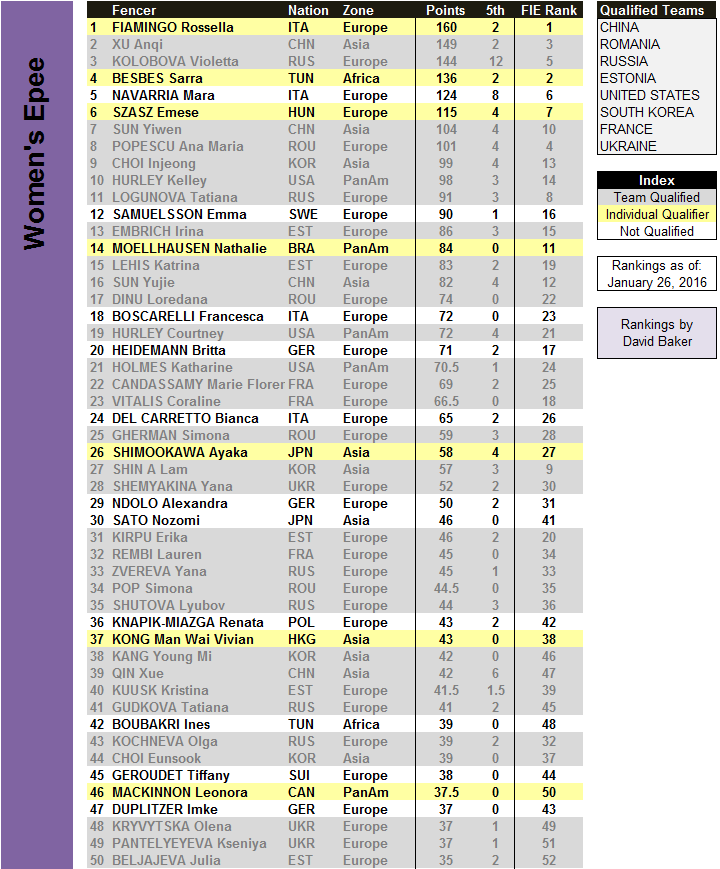 After the final team event in Buenos Aires we have one more satellite in Sofia followed by the final competition of the qualification period in Budapest.