One year from now, the Olympic torch will enter the Olympic Stadium and the final Torchbearer will light the Olympic Cauldron, indicating the beginning of the Games of the XXXth Olympiad.
Held in the ExCeL center, the fencing competitions start on July 28, 2012 with the women's foil individual event and close with the men's team foil event on August 5th, 2012. There will be 10 Olympic fencing events in total across epee, foil and sabre.
Qualification Races Underway
The qualification races for the fencing competitions in London 2012 are fully underway.  The qualification period for teams lasts exactly one year and includes competitions from April 1,2011 to 31 March 2012. After this date, the last opportunity to get to London 2012 is through zonal qualifying tournaments. Only 40 additional individual athletes can succeed on this way.
If qualification would close today, the United States and Italy would be the only nations qualifying with a maximum of teams and athletes.
The most significant milestone on the Long and Winding Road to London will be the 2011 World Championships in Catania, Italy this October. The points obtained by each athlete are multiplied by 2.5 in individual competitions and are doubled in the team events.
While the big event is still 365 days away, fencers all around the world are already looking forward.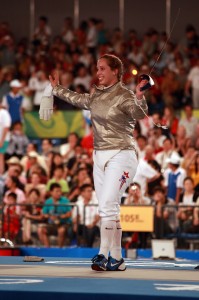 Mariel Zagunis (USA, women's sabre), 2004 and 2008 Olympic Champion and two times individual World Champion:
"I am very excited to qualify for my third Olympic Games. Not many fencers can have that opportunity, and I am looking forward to next summer. I really feel that I have grown as a fencer with my experiences over the last two Olympics and will make the most of this experience as well. My biggest challenge on the way to London will be to peak at the right time. The fencing season is a very long one, with quite a few important tournaments over many months. However, as long as I listen to my coach, Ed Korfanty, and continue to train hard I know I will be ready. Ed has always done a great job in helping me prepare and be ready for the really big tournaments like Worlds and the Olympics. In London 2012, I will be attempting to make more fencing history."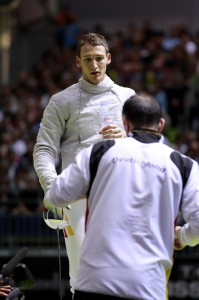 Nicolas Limbach (GER, men's sabre), finished 9th at the Olympic Games 2008 in Beijing and World Champion in 2009 and silver medalist in 2010:
"Ever since I was a little boy, I have the dream to win a medal at Olympic Games. Qualifying with the team is especially important for me. In 2008 in Beijing, I was the only German sabre fencer and now I want to share this experience with my team. I hope that there can be a lot of our friends and families in the venue to cheer for us."
Nathalie Moellhausen (ITA, women's epee), Bronze medal at the 2010 World Fencing Championships and Team World Champion in 2009:
"The Olympic Games are the greatest achievement. It's up to me to go for it. In our team, we grew a lot in the last 4 years and I think we have a good chance to make it to London. But the road to London is hard and long. There will be many tough and stressful moments where you must be able to go ahead. After my bronze medal at the 2010 Fencing World Championships in Paris I thought I could do everything but during the year I realized that nothing is given and that you can never let your guard down, not even for a second. This is why I am working hard on the mental preparation which is what makes the difference at the top level."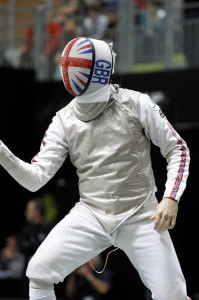 Richard Kruse (GBR, men's foil), Born in London and two times Olympian for the British team:
"The host-nation has 8 places to allocate as they wish to British Fencers. This virtually ensures qualification for me in the Games. However, I certainly wouldn't celebrate qualifying for London if I did so via the 'host-nation route'.  Qualifying directly through the world rankings would be a big personal achievement for me. And if our team qualifies through the world rankings, we'll have a better chance to make it to the top 4 in London, potentially eying up a bronze medal.
To have the Olympic Games in not just your home country but home city is a privilege that not many athletes ever have. And having the Games in your own city when you are still competing and are at the peak of your career is a great opportunity."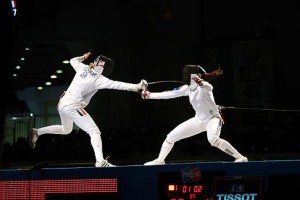 Britta Heidemann (GER, women's epee), Olympic Champion 2008 and World Champion 2007:
"I want to be part of the 2012 Olympic Games, of course. All my training efforts are now focussed on qualifying for London 2012 because the qualification is the biggest challenge.

London would be my third Games. In Athens, we won silver with the team in dramatic fights. Beijing was special to me – winning the Olympic Gold medal was a dream come true. I am sure London will be fantastic in its own way. It is such a great city and close enough for my family and German friends to come and see the competition. But that is still a long way to go."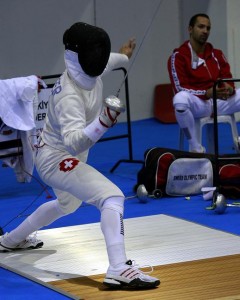 Max Heinzer (SUI, men's epee), Bronze medal 2011 European Championships and currently ranked first in the Olympic qualification:
"I dream of participating at the Olympic Games ever since I was a little boy. The biggest challenge on the way to London will be the hard qualification period. Last year, I interrupted my studies in order to concentrate completely on fencing and to have more time for training and regeneration.

If I qualify, I don't want to take part only, I really want to win a medal. I am looking forward to a fantastic Opening Ceremony, and then I will concentrate fully on my competition. Men's epee is on 1 August which is our national holiday in Switzerland. I quite like this date."
2011 Fencing World Championships Catania
The 2011 Fencing World Championships will take place in the Palaghiaccio of Catania from 8 to 16 October. Around 700 athletes from about 100 countries are expected to participate. More information will soon be available on the event website www.cataniafencing2011.com .