The mascot of the 2011 Fencing World Championships in Catania, Italy is Fency, the prickly cactus pear.  Fency was chosen from a contest open to young students and athletes from the national federations affiliated with FIE.  The winners were two Sicilian fencers, Concetta Dell'Albani from Avola e Rosa Inzirillo from Mazara del Vallo.
The concept was named the winner due to the representation of Sicily and the sweetness of its fruit.  From the press release at the official site: "Full of energy, color and vitamins, the originality of this eye-catching completely Sicilian mascot (90% of Italian production of this fruit is concentrated in Sicily, particularly in Catania) will present the flavor of this fantastic fruit to all those who take part in the World Championships. And so, "Fency" is destined to become the "main character" of "Catania 2011″, a good luck charm for Catania, for athletes and fencing enthusiasts from around the globe."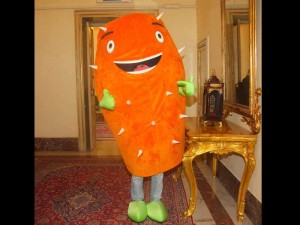 The Fencing World Championships are to be held at the Ice Rink in Catania, the biggest indoor sports facility in Southern Italy. The official website of Catania 2011 is www.cataniaescrime2011.com.  The events will be covered locally on RAISport and Universal Sports is slated to have some coverage.
Serge Timacheff will be taking photos at the World Championships.