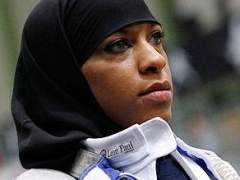 Tim Morehouse has posted his own PR analysis of what an Olympic bid could bring Ibti Muhammad.  The women's sabre fencer is already garnering press during the Olympic qualification process:
Even months out of the Olympics now, Ibti has been profiled by the Wall Street Journal in an article Title "Fencer With Headscarf Is a Cut Above the Rest", ESPN Magazine and now a profile in Essence Magazine.(Below)  In addition, she's just been asked to speak at the ESPN 2011 Summit.
Muhammad is currently ranked 13th in the FIE World Rankings in Women's Sabre, but is 10 points behind teammate Daria Schneider in Olympic qualifying.  Because only the individual women's sabre event is being contested at the 2012 Olympics, only 2 fencers from the United States can qualify for the Games.
If Muhammad qualifies for the London Olympics, she will be the first practicing Muslim woman to represent the U.S. at the Olympic Games, a fact pointed out in today's story at Black American Web.  Muhammad is already the first African-American Muslim woman to make the U.S. Women's championship team.
The 2011 Fencing World Championships are within the month and those points are all up for grabs.  All 4 US Women's Sabre fencers are ranked in the top-16 in the world, so any of them could medal.  The points at World Championships are at a premium, so a strong finish here will set the fencers up for the rest of the Olympic qualifying season.
Looking quickly at the current rankings of the US women: Mariel Zagunis should be considered a lock for qualification.  Zagunis is 40+ points ahead of Daria Schneider and 50+ points ahead of Muhammad and Dagmara Wozniak.  Schneider sits at 10 points ahead of Muhammad and 12 ahead of Wozniak.   World Championship points are worth 2.5 x a normal world cup, so the one of these 3 that can make top-8 at Worlds will take the lead in qualifying.