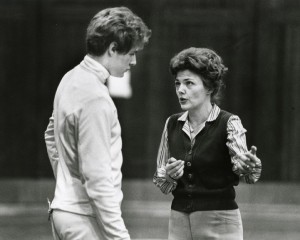 The Ohio State University blog posted a profile and obituary of former head coach Charlotte Remenyik, who passed away December 21, 2011.
Remenyik came to the United States from Hungary after the revolution in 1956.
When she arrived in Chicago with her husband she knew she wanted to teach fencing, but she had only a high school education and spoke only Hungarian. "My husband got a job in Chicago in a factory and I also worked in the same factory for a while," she recounted in the oral history interview. "Later I advanced to the office because I knew how to add, subtract, multiply and divide.  I did payroll.  Didn't need to speak a lot of English. Chicago was like outer Siberia as far as fencing was concerned."
She learned English and received her Bachelor's Degree in physical education in 1973 and then went on to coach the fencing team at Northwestern.   In 1978 she went to OSU to coach the women and then in 1980 became the first female head coach of an NCAA men's fencing program.
The Remenyik Open, held annually at Northwestern, is named in her honor.