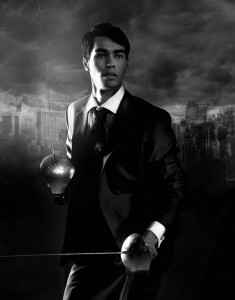 After the Portland NAC we caught up with James Williams.  Unfortunately, the interview failed to get published in a timeline manner, so here it is a little late.
James and the rest of the US Men's Saber fencers are off to Plovdiv this weekend for a Grand Prix event.  The US team is 20 points ahead of Canada for the zonal spot in Olympic Team Qualification.
Although #2 Aldo Montano is not fencing in this event, the Italian team should prove strong and the US fencers will all have to fence out of pools as the top US fencer is 18th ranked Daryl Homer.  James Williams is currently ranked 24th.
On Monday, we'll update the Olympic qualification rankings based on the weekend's World Cup events.  In the meantime, enjoy this interview with James.
Congratulations on winning the Portland North American Cup – How does it feel?
I feel really excited. It is always an honor to win such a large competition. It was a step, albeit a small one, closer to qualification. I hope it will give me confidence as we head into the World Cup season and the final leg of our Olympic qualification.
What were the keys to your victory in Portland?
This is always a tough question for me, especially since I haven't watched the video tape yet.  Without some luck nothing is possible, but we must discount it and analyze that which we can control.
I can say that Yury has been working very intensely with the guys and me.  I've also been concentrating on my footwork and working to improve my lunge. After 16 years of fencing i found my lunge still needed work.
There were a lot of upsets at this competition amongst the Olympic contenders, notably, Tim Morehouse, Daryl Homer, Luther Clement and Ben Igoe all were out in early rounds and you also struggled in your round of 32 match trailing 7-1 and 12-9. How do you explain the outcomes?
I would first say that while everyone was shocked to see so many upsets, these young fencers deserve a lot of credit.  I saw most of them at the National Training Camp last month and can vouch for the strong work ethic that Eli Dershewitz and Jonah Shainberg and a lot of these young guys have.  I fenced Rhys Douglas (who defeated Daryl Homer in the round of 32) at the end of 2010 and he and his brother Ewan have improved drastically as well.  This is a very strong group of fencers and we were all happy to see how hungry they are and how hard they fight for touches.
On the other side of the coin, I think we were all very nervous at this competition and put a lot of pressure on ourselves to perform.  I was personally very nervous when I saw the direct elimination tableau and started worrying about whom I was fencing instead of how I was going to fence and that impaired my fencing in the early rounds.  While you can't put yourself on the team with NAC results, you can certainly knock yourself off.  On any given day, anyone can beat anyone else. If the higher seeded fencer always won, there would be no need to fence the tournament!
We train very hard but our training is more geared towards world cup competitions than NACs and I think that can be a challenge as well, but at the end of the day, we still need to overcome this to make the Olympic team.  Tim and Daryl know that they are responsible for not performing to their potential at this tournament.  This is a valuable lesson and will motivate them to perform better at future competitions.
What's next in the men's saber Olympic Qualification process?
In 10 days we leave for a week long training camp in Romania and go from there to our first world cup in Bulgaria.  We have 3 more world cups after that, at which point the team will probably be decided.
Any advice for young fencers with Olympic dreams?
I would tell them to keep at it and to avoid getting too low when its bad and too high when its good.