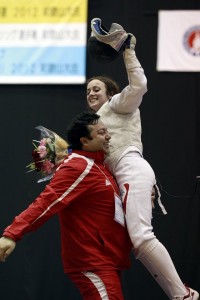 The Zonal Qualification tournaments for the 2012 London Olympics are underway.  We already have the full results from the African Zonal Qualifiers and partial results from the Asian qualifiers.  The Pan American and European events are also running this weekend, so by Sunday we will have the full list of slots for the 2012 Olympics resolved.
The countries who have qualified teams for the Olympics still have to submit the names of those athletes, but we can parse those out as well.
Several "former" US fencers are competing under the flags of other countries and looking for their own spots to the 2012 Olympic Games.
Mona Shaito (pictured) qualified in Women's Foil and will represent Lebanon at the 2012 Games.  Her brother is also fencing at the event for his own qualification.
Eileen Grench (PAN) will compete in Santiago, Chile for entry into the Women's Saber event and Brendan Cusack (IRL) will try to make his way through the European event to earn a Men's Foil spot for Ireland.
Iran has its first fencing Olympian in years as Mojtara Abendini Shormasti (IRI) defeated Satoshi Ogawa (JPN) 15-13 in the Men's Saber event at the Asian Qualification event.
Click here to review the Long and Winding Road to London which explains the qualification paths.
Zonal Qualifiers (as of 4/20/12):
Africa: (1 qualifier for each individual event)
WE: ABDEL AZIZ Mona (EGY)
WF: KHELFAOUI Anissa (ALG)
WS: MOUTOUSSAMY Lea Melissa (ALG)
ME: EL HAOUARI Abdelkarim (MAR)
MF: ALI Xavier (MAR)
MS: GHAZY Mannad (EGY)
Asia: (1 qualifier for WE, WF, MF, MS; 3 for WS and ME)
WE: NAKANO Nozomi (JPN)
WF: SHAITO Mona (LIB)
MS: ABEDINI SHORMASTI Mojtara (IRI)