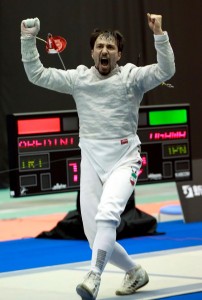 The Olympic qualification cycle is now complete.  The final events for individual qualification to the 2012 Olympic Games concluded last weekend with the Zonal Qualification tournaments for the Americas, Africa, Asia-Oceana, and Europe.  Those fencers are added on to the end of the list of qualifiers for the various individual events.
For the primer of how fencers qualified for the Olympic Games, please refer to our original article: The Long and Winding Road to London.
Countries that qualified teams in Men's Foil, Men's Sabre, Women's Foil, and Women's Epee still need to submit their athletes but we can make good guesses, based on the FIE ratings of those fencers, who each team will be sending.  Later on this week we'll publish our final spreadsheet of the individual qualifiers along with the FIE rankings that will be used for seeding into the Olympic competitions.
Breakdown of additional zonal qualifiers:
Africa: (1 qualifier for each individual event)
WE: ABDEL AZIZ Mona (EGY)
WF: KHELFAOUI Anissa (ALG)
WS: MOUTOUSSAMY Lea Melissa (ALG)
ME: EL HAOUARI Abdelkarim (MAR)
MF: ALI Xavier (MAR)
MS: GHAZY Mannad (EGY)
Asia: (1 qualifier for WE, WF, MF, MS; 3 for WS and ME)
WE: NAKANO Nozomi (JPN)
WF: SHAITO Mona (LIB)
MF: SHAITO Zain (LIB)
MS: ABEDINI SHORMASTI Mojtara (IRI)
ME-1: KUDAYEV Ruslan (UZB)
ME-2: NGUYEN Tien Nhat (VIE)
ME-3: LEUNG Ka Ming (HKG)
Leung won 15-14 over Evgeny Naumkin (KGZ) for the 3rd and final zonal qualifying spot for Men's Epee from the Asian zone.
WS-1: ZHIVITSA Yuliya (KAZ)
WS-2: AU Sin Ying (HKG)
WS-3: PERMATASARI Diah (INA)
Pan America (1 qualifier for WE, WF, MF, MS; 2 for WS and ME)
WE: MARTINEZ Maria (VEN)
WF: FUENMAYOR CHOLES Johana Beatriz (VEN)
MF:     TOLDO Guilherme (BRA)
MS: JANSEN Hernan (VEN)
ME-1: INOSTROZA BUDINICH Paris A. (CHI)
ME-2: SCHWANTES Athos (BRA)
WS-1: BENITEZ Alejandra (VEN)
WS-2: GONZALEZ Ursula (MEX)
Europe (2 qualifiers for WE, WF, MF, MS; 4 for WS and ME)
WE: SZASZ Emese (HUN)
WE: FLESSEL-COLOVIC Laura (FRA)
WF: LELEYKO Olga A. (UKR)
WF: SHEPPARD Natalia (GBR)
WS: MIKINA Sabina (AZE)
WS: TSCHOMAKOVA Margarita (BUL)
WS: PASCU Bianca Alexandra (ROU)
WS: BUJDOSO Alexandra (GER)
ME: KARUCHENKO Dmitriy (UKR)
ME: SUKHOV Pavel (RUS)
ME: ZAWROTNIAK Radoslaw (POL)
ME: PIASECKI Bartosz (NOR)
MF: DARABAN Radu (ROU)
MF: JOVANOVIC Bojan (CRO)
MS: BOYKO Dmytro (UKR)
MS: SKRODZKI Adam (POL)