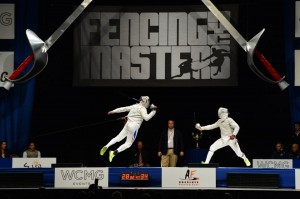 Set your DVRs for Universal Sports tonight at 7:30pm for the Fencing Masters event!
Here's the press release from Universal Sports:
EN GARDE! FENCING MASTERS: KICK OFF TO LONDON TO AIR ON UNIVERSAL SPORTS THIS THURSDAY, JULY 19 at 7:30pm
USA vs. The World is the Largest Non-Olympic US Spectator Fencing Tournament
Universal Sports Network will have multi-platform coverage of Fencing Masters: Kick Off To London this Thursday, July 19, at 7:30 p.m. ET on both television and online at UniversalSports.com. The broadcast marks the first time a U.S. fencing tournament will be available to a national audience.
Founded by American fencer and 2008 Olympic Silver medalist Tim Morehouse, the exhibition was held June 26 to a sold-out crowd in New York's Hammerstein Ballroom and is the largest non-Olympic spectator fencing tournament event in the United States.
Fencing Masters: Kick-Off to London features members of the 2012 U.S. Olympic Fencing Team as they take on International all-stars. The US Team includes two-time Olympic gold medalist Mariel Zagunis and World bronze medalist Lee Kiefer on the women's side, and Morehouse, World gold medalist Soran Thompson and 19 year-old phenom Race Imboden for the men.
"Fencing is an amazing sport to watch, and I'm excited that more people in the United States will be able to experience its beauty, grace and athleticism on Universal Sports before our team competes in London," said Fencing Masters founder Tim Morehouse who organized the tournament while simultaneously qualifying for London Games.
Universal Sports provides viewers unparalleled access to world-class sporting events, including the most year-round, Olympic-related programming of any network. In the Olympic year 2012, the network debuted Countdown to London, a weekly studio news show which highlights news, features, athlete interviews and expert analysts leading up to the London games. In addition, Universal Sports Network is the home of 30 different sports and 25 World Championships, and will once again deliver exclusive U.S. television coverage of such prestigious annual competitions as the Boston Marathon, Giro d'Italia, Vuelta a España and Kona Ironman.
# # #
About Universal Sports
Universal Sports Network recently transitioned to a multi-platform, high definition cable, satellite and IPTV service. Currently, DIRECTV, DISH and numerous cable providers offer Universal Sports Network. Viewers whose cable, satellite or IPTV providers are not currently offering the network should call 1-800-55-GET-US or visit www.IWantUniversalSports.com and demand access to the network's coverage of the world's biggest championships.
Universal Sports, a partnership between NBC Sports and InterMedia Partners, LP, is the premier multi-platform media destination for Olympic-related sports programming in the United States. Offering more than 1,200 hours of original programming each year, Universal Sports has exclusive rights to world and national championship events in a wide array of sports, including swimming, track and field, gymnastics, cycling, skiing, figure skating and rugby. Whether on television, online, or on the go with mobile and tablet applications, Universal Sports offers a four-screen experience to fans of global sports every day of the year. For more information, please visit UniversalSports.com.