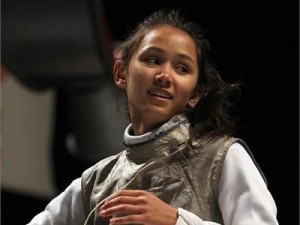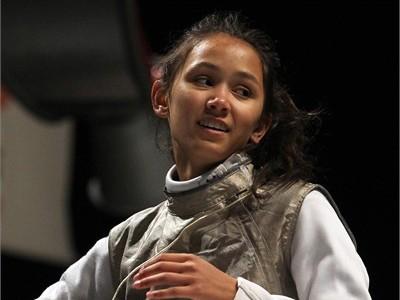 Most high school seniors are worrying about prom.  Not Lee.  She is looking forward to winning a medal on the grand Olympic stage.  Fencing.net caught up with the 2011 and 2012 Pan American Gold Medalist when she and the rest of the US women's foil team was doing a training camp in Anaheim, CA.
KM: This is your first Olympics coming up, what are you looking forward to?
I am really excited to see London and fence on the world's largest stage!  It will be awesome competing there and representing our country.
I am also glad we are fencing at the beginning so we can enjoy some of the sites and festivities after our event too!
KM: Do you feel any pressure knowing that you are coming in as the reigning Olympic silver medal team?
We are going to have to work very hard with our bout with Korea and we'll see what happens from there.  This was the same type of situation that happened at the last Olympics in Beijing and hopefully we can do the same thing again!
We have been working hard and training individually and training together like this training camp.
KM: So who is training with you at this training camp?
We have the US team, the Canadian team, a person from Columbia, two from Egypt, a person representing Lebanon (Mona Shaito), and a few other high level US fencers.  There about twelve of us all together.
KM: What other types of things are you doing to tune up for the Olympics?
I'm doing my regular training right now so I can stay in my regular routine.  I work with a trainer for an hour each day while I am at home.  I'm leaving for London on the 16 and then I fence on the 28th.
I'm not sure who I'll be fencing yet, but I'll be figuring out the tableau now during the camp.  Once I know who my competitors are, I'll be working on how to beat those specific people in my path.
KM: You must be feeling pretty good though coming into the Olympics.  You're coming into the games with some great results like defending your title at the Pan American Games!
Yeah, it's great coming into the games with some momentum.  It didn't hurt that it was in Cancun, Mexico also!  There was the water and the beach, but I tried not letting it distract me that much!
I thought I was going to be fencing my teammates a lot, but luckily, I didn't have to.  Still, it was a really hard day for me in fencing – though we did really well in our team bout.  I felt like we had a lot of pressure on us since the result counted towards our seeding for the Olympics, so we had to do well.
KM: Was there extra pressure because you could only lose ground and not gain any ground in the (FIE) standings?
Exactly!  Because we had won last year, we could only go down.
KM: What did you do to overcome the pressure?
I knew I was either going to win my bouts or not.  I had to do my best and focus on that throughout the day and look at the overall picture.
I wasn't feeling very well in pools so I had to pull myself together and fence well.  Nothing like a little more pressure to get you ready for the Olympics!
KM: Do you feel any pressure because you are the youngest person on the team?
I first started fencing at this level when I was 15 and back then, I really felt like the youngest.  Now that I have been training with the team for so long, I'm comfortable now.  It's just business as usual now!
KM: What was it like being on the big stage in NY for the Fencing Masters that Tim Morehouse put on?
I didn't mind being on the stage.  It was actually kind of fun!  There were some things that I didn't remember that I was supposed to do since I was on TV and had an audience.
I had to remember to wave every now and then to the audience and smile a little extra.  It was fun being there though.  It was fun making fencing look cool and exciting!
KM: Like when you were fencing (Sylwia) Gruchala with the 10 second fencing exchange that you can see on youtube?
Exactly like that!  Something like this wouldn't have happened in a real bout.  Someone would have done something else or the referee would have called a halt or something like that.
It was great having the latitude of doing a ridiculously long phrase like that.  In the end it was awesome because we spontaneously gave each other a high five after it was done!
KM: And here's a high five to you to making fencing look that much more exciting! 
CH: And here's the youtube video of Gruchala and Kiefer fencing in that epic exchange.  Hopefully when Fencing Masters goes to broadcast TV this month, the producers will use this exchange so we can get a really good look: