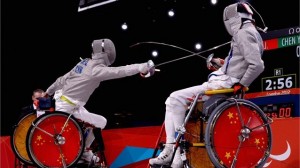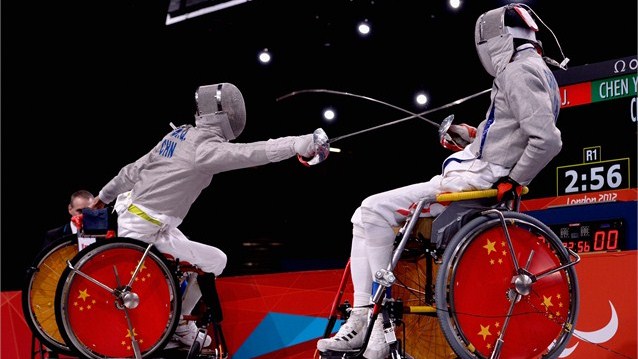 China's Chen Yijun won his second Wheelchair Fencing medal of London 2012 after seeing off countryman Tian Jianquan in a thrilling men's Sabre – Category A final.
Tian looked in superb form after beating eventual bronze medallist Chan Wing Kin of Hong Kong 15-4 in the semi-finals, but in the final it was his Chinese rival Chen who edged in front and held on for a 15-12 victory to add gold to the silver medal he collected in the men's Individual Foil on Tuesday.
Earlier in the day, Greece's Gerasimos Pylarinos had emerged from the pool stages as the number one seed after winning all four of his bouts, but he then lost 15-6 in the quarter-finals to Poland's Radoslaw Stanczuk.
More at: http://www.london2012.com/paralympics/news/articles/chen-strikes-double.html
Final Results: Men's Wheelchair Sabre Category A
1 CHEN Yijun CHN – Gold
2 TIAN Jianquan CHN – Silver
3 CHAN Wing Kin HKG – Bronze
4 STANCZUK Radoslaw POL
5 PYLARINOS Gerasimos GRE
6 FROLOV Sergey RUS
7 CHEONG Meng Chai HKG
8 EL ASSINE Moez FRA
9 NOBLE Romain FRA
10 FAYZULLIN Timur RUS
11 HALL BUTCHER Tom GBR
12 MAKOWSKI Stefan POL
13 TSEDRYK Vadym UKR
14 ALEXAKIS Georgios GRE
15 RAZALI Abd Rahman MAS
Final Results: Men's Wheelchair Sabre Category B
1 PLUTA Grzegorz POL – Gold
2 CRATERE Marc-Andre FRA – Silver
3 SARRI Alessio ITA – Bronze
4 YUSUPOV Marat RUS
5 FRANCOIS Laurent FRA
6 DATSKO Anton UKR
7 MAINVILLE Pierre CAN
8 TRIANTAFYLLOU Panagiotis GRE
9 KURZIN Alexandr RUS
10 BOGDOS Emmanouil GRE
11 CASTRO Adrian POL
12 SOLER MARQUEZ Carlos ESP
13 TAM Chik Sum HKG
14 BRINSON Joseph USA
15 BOEHM Manfred AUT