As the number of youth fencers increases, many fencing programs are working to incorporate more fitness and skills work suitable for younger fencers.  While there are new products from youth sized practice and electric gear to the newer plastic training sets designed for youth classes, many parents are still running into the problem of just what shoes their kids should wear for fencing practice.
Most fencing shoes don't go down below a size 4 US, so what kind of shoe do you get for your 8, 9, or 10 year old who is still wearing smaller shoes?
There is a whole host of options for soccer, baseball, and basketball shoes available all the way from "youth" sizes up to the "little kid" sizes that children from 5-10 end up wearing.  (And I've been buying those for my squad of little ones!)
The fencing market just isn't quite large enough to support the production run on those smaller sizes, so what's a parent to do?
As discussed in our Comprehensive Guide to Fencing Shoes, fencing shoes should have:
Good heel cushioning set at an angle to the heel strike of the lunge
Flexible uppers and sole to be comfortable when in preparation and "bouncing"
Durable inner edge to deal with foot drag on the lunge, especially with metal strips
Low to the ground and made for lateral movement
Traction: wood floors and gyms.
Luckily, fencing is not the only sport with these characteristics.  In the guide, we addressed the question of "what non-fencing shoes are okay for fencing?" and that leads us to the popular court shoes.
Non-Fencing shoes popular with fencers:
Many fencers are finding success with models like the Asics Rockets and Adidas Stabil series for adults, so we went looking for similar court shoes (tennis, court, indoor volleyball) available in youth sizing.
Here are some finds: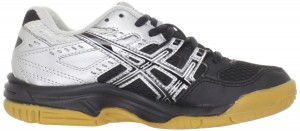 Asics JR Rocket GS Volleyball Shoe
The Gel Rockets got a mention in our other article and are available here in children's sizing.  When we checked Amazon, they were available from size 1M to size 7M in both black and white models.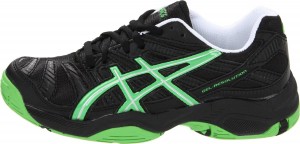 Asics Gel Resolution – Around $49.95 on Amazon
This is available from size 1M to size 7M and is a basic overall court shoe.  The detail pictures shoe a shoe that will handle the lateral movements of fencing while providing a decent heel strike.  This shoe looks very serviceable for a youth fencer.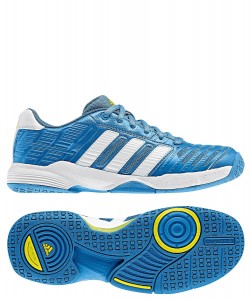 Adidas Stabil – About $80
If you don't mind spending a little more on a shoe, then the Adidas Stabil is also available in youth sizes.  We found the Blue/White model on Amazon from size 1.5 to 5.5 for about $80.00.
Another Adidas shoe that looks promising is the Adidas Barricade.  It has a look similar to the D'Artagnan IV and is priced at about $59, but the available sizes on Amazon start at a 3.5.
The key when you are looking for shoes for your kids is to keep to shoes that meet the requirements for movement in fencing.  They should be low to the ground, provide adequate cushioning, and provide lateral stability.
You also want to plan on changing out their shoes every 6 to 9 months or so as they are growing and will either outgrow the shoes or wear out the internal padding in that timeframe.