Each Olympics Adidas introduces a new fencing shoe. This consistent product delivery has fencers looking forward to Olympic years to see what Adidas will come up with next.
The Rio Olympics are no exception as German equipment provider AllStar now has a new model of Adidas Fencing Shoe up on their site. This one is called the "Fencing Pro 16".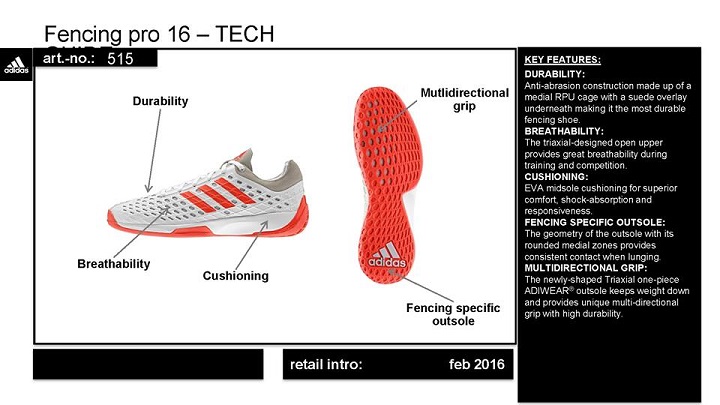 Among the features called out:
Media RPU Cage with suede overlay underneath. Claims this makes the Adidas Fencing Pro 16 the most durable fencing shoe.
Traxial designed open upper for breathability
EVA midsole cushioning
Outsole designed specifically for fencing movements to keep more of the shoe in contact when lunging
Multi-directional grip (for quick changes of direction.)
Traxial one-piece ADIWEAR outsole
What's great is that Adidas continues to innovate on their fencing shoe line – something we wish Nike would do after the launch of their highly acclaimed 2008 fencing shoe.
The Adidas Fencing Pro 16 is available from Absolute Fencing Gear's online store. A bit pricier than the Nike Zoom Air, but in line with what the AdiPro was selling for in the United States. As to availability – expect these to be available around the time of the 2016 Olympic Games. (The straight conversion rate from the German sites put the USD equivalent to around $205, but US importers have to deal with extra shipping and import tax fees.)
Here are some more detailed pictures of the Adidas Fencing Pro 16 fencing shoe. I think it looks great. What do you think?