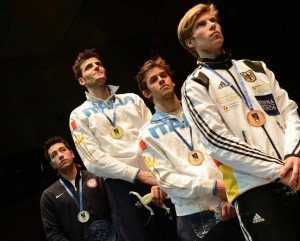 Andrea Cassara (ITA) held onto his top world ranking in men's foil with a 15-8 victory in Venice over US fencer Gerek Meinhardt. The two fencers topped a field of 126 entries in the Grand Prix event which continued the story line of Italy's hold in foil and the US team's emergence as a top power.
Italy remains strong in men's foil, boasting 3 fencers in the top-8 of the FIE standings. (Andrea Cassara – 1st, Andrea Baldini – 3rd, Valerio Aspromonte – 7th).
The US now has 3 fencers in the top-16: Alex Massialas (5th), Race Imboden (11th), and Meinhardt (12th). Miles Chamley-Watson sits at 17th.
Gerek Meinhardt has made 3 straight top-8 finishes pushing him up to 12th in the FIE world rankings.
The US fencers all ended up in the top half of the elimination bracket, setting up a top-8 match between Meinhardt and Miles Chamley-Watson. Meinhardt took the match 15-13 and moved on to the semi-finals against Peter Joppich (GER). Meinhardt advanced to the finals with a decisive 15-10 victory over the multi-time world champion to set up a final match with Cassara.
On the other side of the 8, Cassara defeated Artem Sedov (RUS) 15-5 then faced off against teammate Andrea Baldini (ITA). Cassara emerged victorious 15-13 to advance and meet Meinhardt.
Full results are available on the official site: Results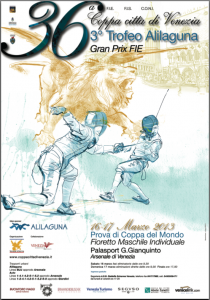 Top-8 Results: 2013 Coppa citta di Venezia – Men's Foil GP
| | | | |
| --- | --- | --- | --- |
| Rank | Pts | Name | Nationality |
| 1 | 48 | CASSARA Andrea | ITA |
| 2 | 39 | MEINHARDT Gerek | USA |
| 3 | 30 | JOPPICH Peter | GER |
| 3 | 30 | BALDINI Andrea | ITA |
| 5 | 21 | DAVIS James-Andrew | GBR |
| 6 | 21 | LI Hua | CHN |
| 7 | 21 | SEDOV Artem | RUS |
| 8 | 21 | CHAMLEY-WATSON Miles | USA |
| | | | |
| 17 | 6 | MASSIALAS Alexander | USA |
| 34 | 3 | IMBODEN Race | USA |
| 49 | 3 | DUDEY Michael | USA |
| 58 | 3 | CHANG Jerry | USA |
| | | | |
| 81 | 0 | WOO Michael | USA |
| 90 | 0 | WILLETTE David | USA |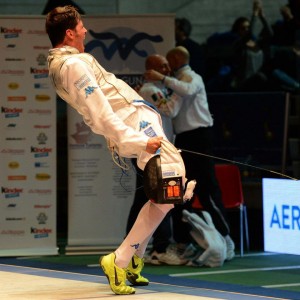 FIE World Rankings: Men's Foil (March 17, 2013)
| | | | |
| --- | --- | --- | --- |
| Rank | Pts | Name | Nationality |
| 1 | 183 | CASSARA Andrea | ITA |
| 2 | 175 | LEI Sheng | CHN |
| 3 | 168 | BALDINI Andrea | ITA |
| 4 | 153 | MA Jianfei | CHN |
| 5 | 146 | MASSIALAS Alexander | USA |
| 6 | 142 | ABOUELKASSEM Alaaeldin | EGY |
| 7 | 137 | ASPROMONTE Valerio | ITA |
| 8 | 133 | CHOI Byungchul | KOR |
| 9 | 132 | CHEREMISINOV Alexey | RUS |
| 10 | 130 | DAVIS James-Andrew | GBR |
| 11 | 124 | IMBODEN Race | USA |
| 12 | 118 | MEINHARDT Gerek | USA |
| 13 | 109 | AKHMATKHUZIN Artur | RUS |
| 14 | 106 | JOPPICH Peter | GER |
| 15 | 105 | KRUSE Richard | GBR |
| 16 | 102 | AVOLA Giorgio | ITA |