Prep for Budapest
Yesterday Leon Paul London's Facebook page posted a photo of their team preparing the finals area for the World Fencing Championships in Budapest. Look familiar? It's the same lighting equipment from the London 2012 Olympics!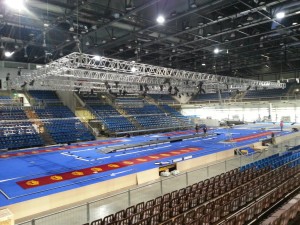 Speaking of Budapest, TvLevallois Sport on Dailymotion has put up a video about the French National Team training for the World Championships.
Stage à Vittel, les coulisses avec l'équipe de France by levalloisport
Even if you can't understand the French language, you can still enjoy the different angle shots they have of them fencing and the behind-the-scenes look to what they do in their downtime.
Watch the competition streaming live from FIE's YouTube channel August 7th through the 12th.
New Season, New You
From a glance at the fencing tag on tumblr, I noticed many posts about the new fencing season starting up in the next few weeks from High School and College students alike (this one in particular is my favorite). Though many can't wait, they also can't believe that it's starting up again so soon and feel like they aren't ready for it.
How about you? Made resolutions to train harder or do some actual conditioning? As always fencing.net is here to help you out. Check out some of our past beginning-of-the-season articles with tips on how to make the most of practices:
Beginning the Fencing Season: Pre-Season Checklist – Responsible Sports helps parents and kids get on the same page for determining goals and how to reach them.
Getting Ready for the Fencing Season: Training – Resources for planning and measuring your fitness and training for the upcoming season.
Training: Plan it or Cram it? – How do you get ready for a tournament? Just like setting up a second-intention action, fencers must think ahead of time about their training rather than cram it all in last minute.
Periodization of your conditioning plan – In this article Lorenzo Casertano provides some basic guidelines for how to very/alter your workout plan based on where you are in your competitive season.
Weight Training for the Competitive Fencer – Here Lorenzo Casertano highlights the steps fencers should be taking to improve their chances on the strip via weight training.
Street Fencing
Fencing through the years has influenced a multitude of artists; it is seen in drawings, paintings, animation, and even fashion. Where you might not expect it though is in stenciled graffiti.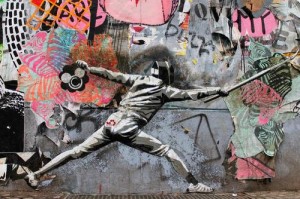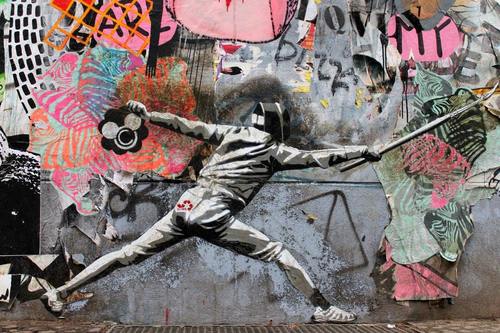 The image above is of a fencer in a full lunge while holding out a paint brush by the street artist DECYCLE. If you ever take a trip to the city of Berlin, you should definitely check the street art scene because some of it is just breath taking.
"Occupations of Women" – Lady Fencers in Advertisement
Think you've seen it all when it comes to fencing in art and advertisement? Think again.
In 1889 Frishmuth's Tobacco Company issued out a series of trading cards called the "Occupations of Women" to promote their tobacco products. One of these cards just so happened to be titled "Fencing-Master", and I find it to be a fascinating piece of history.
The collection is currently being held at the Metropolitan Museum of Art. It is currently not on display (very disappointing).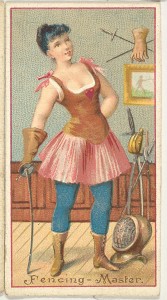 If you missed it Olympic Fencing Hangout, you can watch it in full here [x]