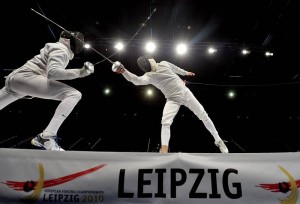 The 2010 European Fencing Championships drew to a close today with the final team events.
Italy was the big winner with gold medals in Men's Team Foil, Men's Foil, Women's Foil, Women's Team Foil, and Men's Team Sabre.
Individual event winners included: Andrea Baldini, Valentina Vezzali, Alexey Yakimenko, Imke Duplitzer, Svetlana Kormilitsyna, and Jean-Michel Lucenay.
Team events were won by Italy (Men's and Women's Foil and Men's Sabre), Poland (Women's Epee), Ukraine (Women's Sabre), and Hungary (Men's Sabre).
The medal winners received another perk when Alisher Usmanov, President of the International Fencing Confederation (FIE), donated $100,000 in prize money.  Max Geuter (Secretary General  of the European Fencing Federation), confirmed that all new European Champions will achieve $6,000, silver medalists will gain $4,000 and bronze medalists will receive $3,000.
Featured Videos from the 2010 European Fencing Championships:
Individual Gold Medal Bouts:
Men's Epee Final BOCZKO (HUN) vs. LUCENAY (FRA)

Women's Sabre Final KORMILITSYNA (RUS) vs. VELIKAIA (RUS)

Men's Foil Final ASPROMONTE (ITA) vs. BALDINI (ITA)

Women's Epee Final PIEKARSKA (POL) vs. DUPLITZER (GER)

Men's Sabre Final YAKIMENKO (RUS) vs. LIMBACH (GER)

Women's Foil Final LAMONOVA (RUS) vs. VEZZALI (ITA)

Team Gold Medal Matches:
Men's Team Epee: Hungary vs. Ukraine

Women's Team Sabre: Russia vs. Ukraine

Men's Team Foil: Italy vs. Russia

Women's Team Epee: Italy vs. Poland

Men's Team Sabre: Italy vs. Ukraine

Women's Team Foil: Germany vs. Italy

Our apologies in advance for waiting until the end to grab all of the coverage – many of us in the office are still recuperating from the US Summer Nationals.  Look for more recaps and results reported here over the weekend.
In the meantime, pick your favorite event and take a look at the videos provided by the FIE Video Channel.  The team events are all long – most over an hour.  If you want to delve deeper into a specific event, then head on over to YouTube where the FIE has uploaded many of the individual bouts and team matches.