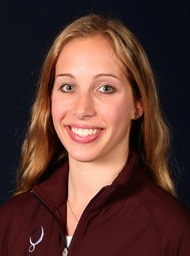 Mariel Zagunis secured the #1 world ranking going into the 2010 World Championships with her repeat of the Pan American Championship in women's sabre.  Zagunis, the two time Olympic Gold Medalist, defeated Canadian Sandra Sassine 15-7 in the finals.
In the semi-finals, Zagunis faced off against team mate Ibtihaj Muhammad.  She last faced Muhammad in the round of 8 at the New York world cup with the same 15-8 score.  Joining Muhammad on the podium with the bronze medal was Dagmara Wozniak, who narrowly lost to Sassine 15-14 in the semi-finals.  Daria Schneider (USA) finished 11th.
Men's Foil: More medals for the United States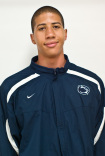 Miles Chamley-Watson (pictured right) took silver for the United States as Alex Massialas shared the bronze medal with Joao Antonio Souza (BRA).  The US team rounded out a strong showing as Gerek Meinhardt and Kurt Getz finished 5th and 6th respectively.
Chamley-Watson started the elimination table with a close call and edged out a 15-14 victory over Brazil's Marcos Cardoso, then defeated Raul Arizaga (MEX) 15-7 before facing off against #1 seed Gerek Meinhardt.  Meinhardt had won his first two bouts 15-3 and 15-6.  Chamley-Watson had the day today, however, with a 15-8 victory over Meinhardt.  He then faced off against Massialas in the semi-finals, winning 15-12 before losing in the gold medal bout to Antonio Leal (VEN) 15-12.
Leal may have prevented an all-US final with his 15-14 defeat of Kurt Getz in the quarter-finals.
2010 Pan American Fencing Championships – Women's Sabre Individual
| | | |
| --- | --- | --- |
| Place | Name | Country |
| 1 | ZAGUNIS Mariel | USA |
| 2 | SASSINE Sandra | CAN |
| 3 | WOZNIAK Dagmara | USA |
| 3 | MUHAMMAD Ibtihaj | USA |
| 5 | FELIX LARA Rossy | DOM |
| 6 | BENITEZ Alejandra | VEN |
| 7 | PEREZ MAURICE Maria Belen | ARG |
| 8 | LAKERBAI Karina | BRA |
| 9 | MERCADO MENDEZ Melanie | PUR |
| 10 | GRENCH Eileen | PAN |
| 11 | SCHNEIDER Daria | USA |
| 12 | BLANCO Maria | VEN |
| 13 | OVTCHINNIKOVA Olga | CAN |
| 14 | CLOUTIER Julie | CAN |
| 15 | DALY Grisel | VEN |
| 16 | MARQUEZ RODRIGUEZ Haidis | CUB |
| 17 | ATTAR COHEN Adriana | ARG |
| 18 | SALAZAR LEBOT Yexis Niurvis | CUB |
| 19 | OSORIO Clarissa | BRA |
| 20 | BRISSON Joelle | CAN |
| 21 | TOBAR Fatima | ESA |
| 22 | BERNINSONE Estefania Emilse | ARG |
| 23 | AGUILAR FLORES Angelica | MEX |
| 24 | YSABEL Heyddys | DOM |
| 25 | MARTINEZ DE LOS SANTOS Melody Rochell | DOM |
| 26 | LARIOS Angelica | MEX |
| 27 | ROUX LAM Jacqueline Antonette | PAN |
| 28 | FRIED Denise | BRA |
| 29 | GONZALEZ Ursula | MEX |
| 30 | VANEGAS Nancy | COL |
| 31 | ALMEIDA Beatriz | BRA |
| 32 | GUANILL Astrid | PUR |
| 33 | BENDRICH Maria Andrea | ARG |
| 34 | GOMEZ Valeria | ECU |
| 35 | JONSON Maybelin | DOM |
| 36 | CRUZ GARCIA Carolina | CRC |
| 37 | GARCIA OBANDO Marisol | CRC |
| 37 | SAENZ MONGE Lucia | CRC |
| 39 | MORALES CARRIERA Jennifer | CUB |
| 39 | ROUX LAM Jeanette Arline | PAN |
| 39 | GONZALEZ Nulexis | VEN |
FIE Results: DE Table | Final Results List
2010 Pan American Fencing Championships: Men's Foil Results
| | | |
| --- | --- | --- |
| Place | Name | Country |
| 1 | LEAL Antonio J. | VEN |
| 2 | CHAMLEY-WATSON Miles | USA |
| 3 | MASSIALAS Alexander | USA |
| 3 | SOUZA Joao Antonio | BRA |
| 5 | MEINHARDT Gerek | USA |
| 6 | GETZ Kurt | USA |
| 7 | ALVARES LAZO Yosniel | CUB |
| 8 | ZAMORA MORALES Yoelkis | CUB |
| 9 | SAUCEDO Felipe Guillermo | ARG |
| 10 | LALONDE TURBIDE Etienne | CAN |
| 11 | ARIZAGA Raul | MEX |
| 12 | SHIMBO Heitor | BRA |
| 13 | RODRIGUEZ Carlos Eduardo | VEN |
| 14 | ALVEAR Felipe | CHI |
| 15 | SCAVASIN Fernando | BRA |
| 16 | DUDIAK Scott | CAN |
| 17 | GOMEZ Daniel | MEX |
| 18 | SIMMONS Alexander | CAN |
| 19 | RIANO TORRES Jesus | CUB |
| 20 | BRU Cesar | VEN |
| 21 | MULLER Federico Guillermo | ARG |
| 22 | TEISSEIRE Nicolas | CAN |
| 23 | HERRERA Ramses | MEX |
| 24 | PEREZ Jhon | VEN |
| 25 | JUSTINIANO Angel | PUR |
| 26 | HERNANDEZ VASQUEZ Alejandro | COL |
| 27 | CARDOSO Marcos | BRA |
| 28 | CASAMALHUAPA AGUILERA Rodrigo Eduardo | ESA |
| 29 | GOMEZ David | MEX |
| 30 | GONZALEZ VIAGGIO Alberto I | ARG |
| 31 | ALVEAR Anibal | CHI |
| 32 | PACHON Santiago | COL |
| 33 | DE PAZ Luis | GUA |
| 34 | VAZQUEZ CARDONA Angel | PUR |
| 35 | RODRIGUEZ MEDINA Darlin Rafael | DOM |
| 36 | LUGO Jonathan | PUR |
| 37 | REJAS DE ACHA Joaquin | BOL |
| 38 | LANDAVERE Alex | PER |
| 39 | BENAVENTE Carlos | PER |
| 40 | ABELLO NAVAS Ezequiel | ARG |
| 41 | SILVA Ruben | CHI |
| 42 | SALES Fabian | CRC |
| 43 | ESQUIVEL ROMAN Jose | CRC |
| 44 | TORRES SANDI Daniel | CRC |
| 45 | ARIAS Jean Carlos | PUR |
| 46 | MARQUEZ CHAVEZ Roberto Pablo | NCA |
| 47 | VILLALOBOS Andres | PER |
| 48 | RIVERA CORNIEL Miguel Gabriel | DOM |
| 49 | PAGUAGA AGUILAR Flavio Roberto | NCA |
| 50 | MORENO URBINA Marcos | CRC |
| 51 | SUSANA Joan | DOM |
| 52 | PINEDA SANCHEZ Esteban Francisco | PAN |
FIE Results: DE Table | Results List