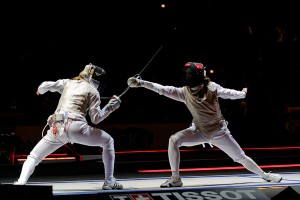 Valentina Vezzali made the last minute come-back in perhaps the most dramatic bout of the day in the first day of finals for the 2011 Fencing World Championships and emerged with her 6th individual world championship title (12th overall).
In the finals Vezzali fenced in an all-Italy final against Elisa Di Francisca (ITA).  Vezzali dominated the opening of the match and led 5-0 at the end of the first period.  She extended the lead to 9-3 in the second period before finishing 14-7 for her 6th individual World Championship.
Vezzali's most dramatic bout came in the quater-finals.  Vezzali found herself down 11-5 to Corinne Matrejean (FRA) in the 3rd period, but fought back to force an overtime tie at 11-11 and then went on to win 12-11.
In the semi-finals, Vezzali fended off a bid by Lee Kiefer (USA) to upset the Italian's hold on the foil finals.  Kiefer was the aggressor for most of the bout, but was unable to land the point on Vezzali, who used a combination of distance changes and esquives to make Kiefer miss.  Vezzali won the bout 15-10.
Prior to this year, Vezzali had won eleven gold medals at the World Fencing Championships, five in individual competitions (1999, 2001, 2003, 2005, 2007) and another seven in team competitions (1995, 1997, 1998, 2001, 2004, 2009, 2010).
Other match-ups:
The other semi-final match pitted European Champion Di Francisca (ITA) against Asian Champion Hyun Hee Nam (KOR).  Di Francisca, at 6 feet, enjoyed a large reach advantage over Nam, which she exploited in the opening period for a 3-1 lead.  In the second period, Nam adjusted the distance, closing in a bit more cautiously and catching the Italian on the attack.  At the beginning of the 3rd period, Nam held a 7-5 lead.
Di Francisca changed tactics again and pulled ahead.  Facing a deficit with the clock ticking, Nam was forced to press the attack on Di Francisca, who scored several of the final touches on extended counter-attacks well outside of Nam's reach.  Nam finally conceeded the match in the closing seconds, leaving the score at 14-8.
Final Results: 2011 Women's Foil World Championship
| | | |
| --- | --- | --- |
| Rank | Name | Nationality |
| 1 | VEZZALI Valentina | ITA |
| 2 | DI FRANCISCA Elisa | ITA |
| 3 | NAM Hyun Hee | KOR |
| 3 | KIEFER Lee | USA |
| 5 | SALVATORI Ilaria | ITA |
| 6 | MAITREJEAN Corinne | FRA |
| 7 | LAMONOVA Eugyenia | RUS |
| 8 | SYNORADZKA Martyna | POL |
| 14 | ROSS Nicole | USA |
| 19 | PRESCOD Nzingha | USA |
| 53 | WILLETTE Doris | USA |