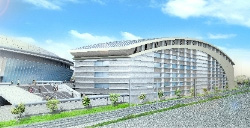 The Prince Takamado Grand Prix event was one that punished oddsmakers and rewarded those taking long shots as no fencer in the top-10 made it to the final-8 of the direct elimination table.
Jianfei Ma (CHN) won the grand prix event 15-13 over Byung Chul Choi (KOR) while Richard Kruse (GBR) and Marius Braun (GER) shared bronze.
Ma was the 13th seed and defeated teammate Sheng Lei (CHN), who was seeded 12th, in the quarter-finals before defeating #18 Richard Kruse (GBR) 15-14 in the semi-finals.
Choi made it to the finals with a quarter-final victory over Alessio Foconi (ITA) and then Marius Braun (GER) with a 15-13 score.
Britain actually placed 2 fencers in the top-8 as James Davis placed 6th.  The Italian fencers did not do as well as the top finisher was Alessio Foconi in 8th.  Cassara and Baldini took 9th and 10th respectively.
The top US result was posted by Race Imboden who came in 11th.  Imboden, the 6th seed, started off with a 15-9 victory over Dmitry Komissarov (RUS) and a 15-9 win over Edoardo Luperi (ITA) before falling in the top-16 to Sheng Lei, 15-11.
Top fencers upset:
Top seed Andrea Cassara made it to the top-16 where he lost to Richard Kruse, 15-13.  3rd seed Erwan Le Pechoux (FRA) and 4th seed Giorgio Avola (ITA) both lost in their opening rounds.
Gladius also posted the reactions from France and Italy of each getting one fencer into the final 8.
Italy was, understandably, upset by the performance:
"This was for sure a not very satisfactory performance," reflects Stefano Cerioni, Italian foil CT. "It was a very peculiar competition where the large majority of the top 16 ranked athletes in the world got stopped in the early DE rounds. I congratulate Alessio Foconi for reaching the quarterfinals. As for the others this competition will be useful as an experience and to help us remember that we must step on the strip with total focus and taking advantage of each individual qualities and characteristics. This is not an alarming bell but rather a lesson we must pay attention to."
France had a different take on the results, as they are looking for which young fencers can step into a senior role:
According to statements from men's foil coach Stéphane Marcelin, Boris Lefort earned good points this past Sunday as did Jean-Paul Tony Helissey (1990) finishing 16th. But between these two young and eager foilists an old veteran got in the middle. Brice Guyart (1981) showed that he is not done yet finishing 14th. OTOH, Terence Joubert (1982) who shined in the Master de Melun, blew it by finishing 58th.
While the US and Italian teams seem to be set, the French team for the Olympics has not been finalized yet.  France is using the last few world cups before June as a race for the final spots on the team.
Results: Prince Takamado Grand Prix (Grand Prix event, 1.5x point multiplier)
| | | |
| --- | --- | --- |
| Rank | Name | Nationality |
| 1 | MA Jianfei | CHN |
| 2 | CHOI Byung Chul | KOR |
| 3 | KRUSE Richard | GBR |
| 3 | BRAUN Marius | GER |
| 5 | LEI Sheng | CHN |
| 6 | DAVIS James | GBR |
| 7 | LEFORT Enzo | FRA |
| 8 | FOCONI Alessio | ITA |
| 9 | CASSARA Andrea | ITA |
| 10 | BALDINI Andrea | ITA |
| 11 | IMBODEN Race | USA |
| 12 | SINTES Victor | FRA |
| 13 | MIYAKE Ryo | JPN |
| 14 | GUYART Brice | FRA |
| 15 | PRANZ Rene | AUT |
| 16 | TONY HELISSEY Jean-Paul | FRA |
| 17 | EL SAYED ABOUELKASSEM Alaaeldin Mohamed | EGY |
| 18 | ASPROMONTE Valerio | ITA |
| 19 | JOPPICH Peter | GER |
| 20 | MASSIALAS Alexander | USA |
| 21 | BACHMANN Sebastian | GER |
| 22 | CHAMLEY-WATSON Miles | USA |
| 23 | SIMONCELLI Luca | ITA |
| 23 | CHEUNG Siu Lun | HKG |
| 25 | LUPERI Edoardo | ITA |
| 26 | KAWIECKI Pawel | POL |
| 27 | MAJEWSKI Michal | POL |
| 28 | HINTERSEER Moritz | AUT |
| 29 | AWAJI Suguru | JPN |
| 30 | CHOI Nicholas Edward | HKG |
| 31 | MINUTO Martino | ITA |
| 32 | SCAVASIN Fernando | BRA |
| 33 | LE PECHOUX Erwan | FRA |
| 34 | AVOLA Giorgio | ITA |
| 35 | SCHLOSSER Roland | AUT |
| 36 | OTA Yuki | JPN |
| 37 | KROEPLIN Moritz | GER |
| 38 | JEFFERIES Edward | GBR |
| 39 | WOHLGEMUTH Dominik | AUT |
| 40 | KLEIBRINK Benjamin | GER |
| 41 | WESSELS Andre | GER |
| 42 | ROSOWSKY Husayn | GBR |
| 43 | ZAWADA Marcin | POL |
| 44 | LALONDE TURBIDE Etienne | CAN |
| 44 | CHIDA Kenta | JPN |
| 46 | LI Chen | CHN |
| 47 | JOURNET Benoit | FRA |
| 48 | NGAN Kwoon Yat Kevin | HKG |
| 49 | GLONEK Radoslaw | POL |
| 50 | MARCILLOUX Marcel | FRA |
| 50 | SAITO Yu | JPN |
| 52 | CHU Wing Hong | HKG |
| 53 | TSUBOI Kohei | JPN |
| 54 | ZHU Jun | CHN |
| 55 | HUANG Liangcai | CHN |
| 56 | MORI Atsuhisa | JPN |
| 57 | ICHIKAWA Kyoya | JPN |
| 58 | JOUBERT Terence | FRA |
| 59 | MEINHARDT Gerek | USA |
| 60 | FUKUDA Yusuke | JPN |
| 61 | KOMISSAROV Dmitry | RUS |
| 62 | BURNATSEV Ilya | RUS |
| 63 | GRIGORYEV Eduard | KAZ |
| 64 | FUJINO Daiki | JPN |