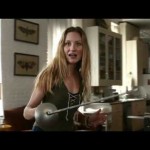 Mitsubishi Electric is using a fencing theme for it's newest TV ad spot.  Watch as a fencer battles with herself – and ruins a perfectly nice pot of flowers.
ATLANTA (June 25, 2012) – Mitsubishi Electric Cooling & Heating's (Mitsubishi Electric) is taking its "Split Personality" campaign to a whole new level.  Last year, homeowners were shown physically battling themselves over HVAC costs. Last month, Actor Jerry Stiller was seen verbally and physically fighting with his alter ego.  Now America will see a fencer armed with a sword (better known as a sabre) in a bout with herself over whether to lower the temperature on her traditional HVAC unit to increase her comfort – or leave it high to save on her electric bill – in the HVAC ductless leader's new TV spot.
The new fencing spot, inspired by the upcoming Olympic Games, was created by Mitsubishi Electric's agency of record, Ames Scullin O'Haire (www.asoy.com).  The spot will debut on June 25, appearing during national cable programming, the Olympic Games and several ESPN events, including Wimbledon, Major League Baseball and the British Open.
"Watching someone physically or verbally fight with his or her alter ego was an attention-grabbing way for us to bring to life the internal battle homeowners have between cost and comfort," says Mike Bourne, creative director at ASO.  "We knew the theater of fencing would take our series of action-packed TV spots to the next level."
ASO's media team focused heavily on sports programming to reach Mitsubishi Electric's target audience of homeowners 25-54. The team also bought online, where 15-second pre-roll of the ad will be viewable online on HGTV, DIY Network and other websites as rich-media banner ads.
"Our new fencing spot is high energy, and perfect for reaching our sports-loving audience," explained Joe Mastroianni, chief marketing officer for Mitsubishi Electric Cooling & Heating.   "ASO chose a great competitive sport to visually engage homeowners with a message that they can have comfort without compromise with one of our ductless units."