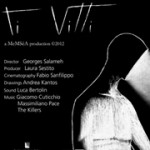 Cross-posted from the forums and the FIS site: At the International 2012 Taormina Film Festival (June 22-28) on Monday, June 25, in the Special Programs category, the world premiere of the film short "Ti vitti" (I see you, in Sicilian dialect) was presented, a documentary on the Catania 2011 World Championships commissioned by the Region of Sicily and produced by MeMSe'A.
The story is told as a film documentary of the Championships in the words of the main protagonists in the world fencing, seen through the eyes of film director Georges Salmeh. He not only observed the bouts but also every aspect like waiting, anxiety, fears, and emotions typical of an international fencing competition.
"We thought to have a documentary, 28 minutes, as an introduction to fencing," said the MeMSe'a producers, "one of the most prestigious sports through the eyes of Sicily, its identity, culture and hospitality. We will send a copy of this film to all national fencing federations present in Catania but also to various film festivals around the world."
"Catania 2011 worlds will be in the history of our Region," said Daniele Tranchida, Sicilian Region delegate for Sport, Tourism and Performing Arts, "not only for what it represented from the sporting point of view, but for the benefit to local tourism which the entire project SiciliaScherma 2009-2011 has brought in terms of visitors and media PR about our land."
"Catania 2011," said Giorgio Scarso, FIS President, "was a unique and extraordinary event which marked a milestone not just for Italian fencing but also for the organization of fencing events. The entire project SiciliaScherma 2009-2011 which had first the 2009 FIE Congress in Palermo, followed by the 2010 senior Italian championships in Syracuse, and the 2011 Catania Senior Worlds has given a great positive impulse to the entire fencing movement. Sicily on the other hand, won its bet on fencing as a driving force and promotion of tourism."
"This documentary narrates not only the emotions but also the feelings and every day events of those days which are lived so intensely by all the protagonists. I believe that this video story is an instrument for promotion not only for this Region but also for fencing. It depicts the true image of a discipline which can give a thousand emotions, enthusiasm, and excitement."
Notes:
The entire video is not yet accessible to the public online but you can watch this teaser

There will be an English version (subtitles) of this short film. Mariel Zagunis is in the documentary together with other well known champions. You can visit the Producer's site here.