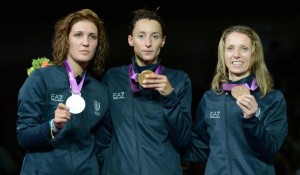 Elisa DiFrancisca (ITA) laid claim to the gold medal in the first second of overtime as she defeated Arianna Errigo (ITA) 12-11.  Valentina Vezzali (ITA) had completed Italy's sweep minutes before in another overtime victory over Korea's Hyun Hee Nam.
The Italian sweep was predicted, but many were hoping to see Vezzali lay claim to her 4th consecutive gold medal.  Instead DiFrancisca lays claim to her first, while Vezzali has 5 total medals (3 gold, 1 silver, 1 bronze) in individual competition.
Elisa Di Francisca came into these Games seeded 4th.  She won her opening match in the round of 32 in decisive fashion with a 15-2 win over Mona Shaito, then followed it up by weathering the storm against Caroline Golubytskyi (GER) early in the bout to put it away late 15-9.
In the quarter-finals she faced upstart Chienko Sugawara (JPN) who was looking to add another upset to her day's accomplishments.  Di Francisca was ready, and advanced 15-9.
The semi-finals brought Hyun Hee Nam (KOR) who had the only chance of breaking up the medal sweep.  Di Francisca and Nam go to overtime, where Di Francisca wins 11-10.
Arianna Errigo, seeded 3rd, advanced to meet Di Francisca in the gold medal bout with wins over Fuenmaryo Choles (VEN), 15-4, Kamilla Gafurzianova (RUS) 15-7 and then Lee Kiefer (USA) 15-10.  In the semi-finals Errigo advanced over Vezzali 15-12.
Reflecting on her loss in the semi-final, Vezzali said "I'm sorry that I didn't fight the way I had to in that important moment.  But sometimes fencing is just like this, and the right person wins.  So it's OK like this."
"Still, on Thursday there's the women's team foil event, and we'll see what happens."
The last time a country swept the individual medals was also the first day of competition when the US team swept the Women's Sabre medals at the 2008 Olympics.
More details on the semi-final bouts:
Semi-final 1:  Korea's Hyun Hee Nam faced off against Elisa Di Francisca of Italy.
Italy placed all 3 fencers into the final 4, and with a win by Di Francisca, Italy would have the possibility of a medal sweep.
Over the first minute of fencing, both fencers worked to control the center of the strip.  Neither fencer was ready to commit to any long actions, and the first two minutes saw 3 touches scored – all on attacks – to put Di Francisca up 2-1.
Nam continued to probe Di Francisca's defenses and finally the Korean was able to launch an attack in the correct distance to tie up the score at 2 each.
Nam scored another point to go up 3-2, then Di Francisca scored on a riposte to tie things back up.  Nam then scored two straight, but was answered by two attacks from Di Francisca to tie back at 5-5.  With time winding down in the 2nd period, Di Francisca had a chance to go up a touch, but her riposte went wide and led to no scores on either side.
Heading into the 3rd period, the bout seemed stalled out at 5 each.
In the 3rd Nam starts out with a bit more movement, jumping in and out of distance to find an opportunity to strike.  Di Francisca is methodical in her approach but still gets caught on an attack by Nam, who goes up 6-5.
Down a touch, the pace speeds up.  In trouble, Nam closes distance rather than get hit by the riposte, and causes corps a corps and a yellow card.
The next exchange is called Nam's attack, which is held up after video review.  Nam figured out DiFrancisca's timing and baits her into counter-attacking and scores on her own attacks to go up 4 points.
DiFrancisca resets and scores 3 straight points of her own, then misses a riposte which puts Nam up 2.
With the Italian crowd chanting "E-Lise-A", the Italian scores on a remise and then an attack to tie the bout at 10.  With time winding down, DiFrancisca presses Nam to the end of the piste, but can't find a good angle for an attack.
The bout moves into overtime with Nam receiving priority.  The overtime won't go long, as DiFrancisca launches an attack which lands valid, giving her the 11-10 win and preserving the chance at a medal sweep.
Semi-Final #2:  Arianna Errigo vs. Valentina Vezzali
These two have met up 3 times this season, with Vezzali holding the edge at 2-1.
Vezzali jumps on Errigo immediately and gets to a 3-0 lead before Errigo manages to chase Vezzali down to the end of the strip and score her first touch.  Errio follows up with 2 more quick points to tie the match at 3.
The two trade touches then Errigo goes up to a 6-5 lead on a touch that breaks her blade.  After a a brief break to choose a new foil, the match resumes.  Errigo is pressing and Vezzali working to find the timing to break it up.
Vezzali tries to break up the tempo of her attack, but Errigo finds the blade and goes up 7-5 on the riposte.  What began as Vezzali's bout has quickly become Errigo's as another riposte and attack bring the score to 9-5.
Vezzali starts to take more risks, which pays off on the first touch (a remise) but not the second – and Errigo is up 10-6.
Two well placed counter-attacks by Vezzali allow her to climb back into the match as she contorts her body to make Errigo miss.  The younger Italian adjusts and scores on the next attack and then follows up with a riposte to go up 12-8.
Errigo continues to push the pace at the beginning of the 3rd period and ends up with a 14-10 lead.  Vezzali scores the next two, prompting Errigo to press the attack.  After a missed attack by Vezzali, Errigo closes it out with a riposte to win 15-11.
Bronze:  Replay of the 2008 Gold Bout.
The bronze medal bout is often the most emotionally taxing.  You've just come off of a loss, which already has you down, and then you have to fence again – if you win you get a medal, if you lose there is nothing – just an historical footnote that you were the person to get defeated for the bronze.
Vezzali and Nam come into the bout with that pressure on them.
Vezzali claims first blood in the match but Nam answers and the first period stalls out with the score tied 2-2.
In the second period Vezzali begins to assert control over the bout – keeping close and preventing Nam from getting anything started.  They trade touches to 3, then Vezzali scores two straight.
Every time Nam starts an attack, Vezzali is there to close the distance out and prevent any chance at a score.
Finally Nam gets the jump and brings the score to 4-5.  Vezzali calmly presses forward and then catches Nam's attack, scoring on a lunging riposte to end the 2nd period, now in control up 6-4.
Nam starts things off in the 3rd period with a blistering attack that catches Vezzali at almost the end of the strip.  Nam then launches another attack that scores, but there was blade contact.  The referee awards the attack to Nam over Vezzali's protests and whistles of disapproval from the Italian fans.
Vezzali has Nam cornered at the end of the strip, but Nam fleches and scores to go up 7-6 which is followed up by another one-light action putting Nam up by 2.
Replay is called for and the referee penalizes Vezzali for covering target or sweeping Nam's blade away with her arm, which awards another point to Nam. Nam continues to score, and builds up a 10-6 lead.
Vezzali fights back, but can't seem to get a run going.
Nam is up 12-9 with 9 seconds left, so Vezzali is running.  She scores an attack to close to 12-10.
Vezzali pushes again and hits Nam with Nam's toe just on piste.  With 4 seconds left, she does it again to tie the bout 12-12 with 1 second left.
We hit overtime and priority goes to Vezzali.
The bout slows back down with the fencers working for time in the middle.  The clock winds down and now Nam has to do something.  She chases Vezzali down the piste and…Vezzali closes the line, deflects Nam's attack and scores the winning point – with 19 seconds left.
The crowd erupts as Vezzali takes her victory lap.
Finals:
To tell the truth, I was still coming down from the Vezzali inspired high among all of the Italians.  Errigo and DiFrancisca must have felt like Katniss Everdeen coming in to show off her archery skills.
This bout started off slow as well – these fencers know and train with each other all the time but they've only met in competition once this season, which Di Francisca won.
The bout goes early for Di Francisca and in the second period she climbs to a 7-3 lead over Errigo.
Errigo fights back, scoring 3 straight points to get back into the match, 6-7.  Di Francisca pressures and has Errigo at the end of the piste, but time runs out in the 2nd.
Errigo comes back from the break to score 3 straight and go ahead 9-7, then 10-8.   Di Francisca catches up and the score is 11-11 with 19 seconds left.
Overtime.  Di Francisca gained priority.  Scored in the first second of overtime to win the gold medal, 12-11.