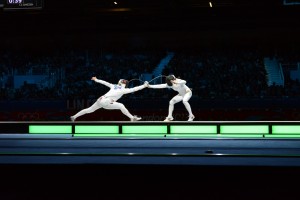 Ukraine's Yana Shemyakina defeated Britta Heidemann (GER) 9-8 in overtime to win the Olympic Gold medal in Women's Epee.
Heidemann, the 2008 Gold Medalist, fenced a game of cat and mouse with the Ukrainian.  That ended up playing into Shemyakina's hands as she had defeated top ranked fencers throughout the day in overtime matches.
After two periods of fencing, the Heidemann held a slim 3-2 lead.  Early in the 3rd period, Shemyakina struck and took over the lead 6-4.  Towards the end of the 3rd Heidemann comes back to tie the score at 7-7 and a double-touch at 39 seconds puts the score at 8-8.
Neither fencer chanced the deciding touch – going to overtime.
In the overtime minute, Heidemann presses the attack just as she did against Shin.  This time her opponent is ready and scores – Shemyakina wins the Gold for Ukraine with a 9-8 score.
In the bronze medal bout, Korea's A Lam Shin was the clear crowd favorite  and got off to a 2-0 lead against Yujie Sun (CHN). Shin did not have the energy to compete with Sun after a nearly 70 minute delay and was beaten 15-11 by top seed Yujie Sun (CHN).