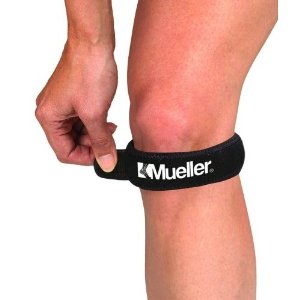 SAN FRANCISCO – Constant jumping, acceleration and deceleration can be harmful to the patellar region over time. For athletes who jump and land repeatedly, such as basketball and volleyball players, overuse commonly results in patellar tendinopathy. The condition is more commonly referred to as jumper's knee, an injury to the patellar tendon, the cord-like tissue connecting the kneecap to the shin bone.
A study presented at the American College of Sports Medicine's 59th Annual Meeting evaluated the effectiveness of infrapatellar straps or knee bands on this injury of the patellar tendon. Few studies have been conducted to confirm the effectiveness of knee bands despite widespread adoption by recreational, amateur and professional athletes engaged in basketball, volleyball and track & field.
For the study, researchers tested 53 male and female patients diagnosed with patellar tendinopathy at the University Medical Centre Groningen in The Netherlands. The subjects performed 10 single leg decline squats and a maximal jumping test with and without an infrapatellar strap. Researchers recorded pain levels on a visual analogue scale each time.
In addition, patients also completed one training session with and without the strap. Following the session, patients answered questions about satisfaction with and side effects of the strap after the session. Two thirds of the athletes reported that the strap was beneficial in reducing pain during their sporting activities. As a minor side effect, 30 percent of subjects reported the feeling of compression on the back side of the knee when wearing the strap
"Based on patellar tendon loading activities, our research confirmed that an infrapatellar strap can reduce pain experienced by athletes with patellar tendinopathy," said Johannes Zwerver, M.D., Ph.D., lead investigator with the Center for Sports Medicine in Groningen. "With such widespread use, it was important for us to determine the usefulness of this orthosis.
###
The American College of Sports Medicine is the largest sports medicine and exercise science organization in the world. More than 45,000 international, national and regional members and certified professionals are dedicated to advancing and integrating scientific research to provide educational and practical applications of exercise science and sports medicine.
The conclusions outlined in this news release are those of the researchers only, and should not be construed as an official statement of the American College of Sports Medicine. Research highlighted in this news release has been presented at a professional meeting but has not been peer-reviewed.