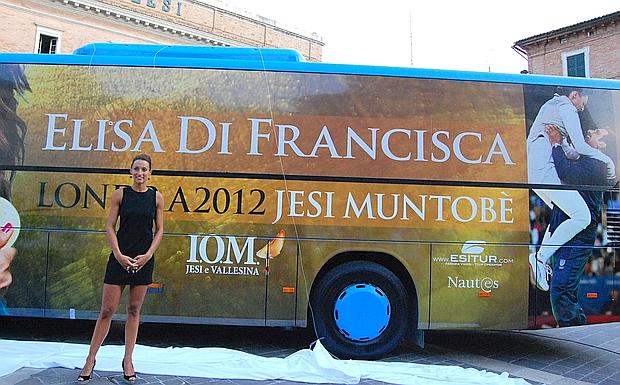 We've heard of athletes coming back from the Olympic Games with awards of cash and cars, but a bus?
The Golden Bus features pictures of Elisa Di Francisca holding her gold medals (from the individual and team women's foil events) and also with head coach Stefano Cerioni.  Embalzoned on the bus is the phrase "Elisa Di Francisca. Londra 2012. Jesi Muntobè" (montobe means "great" in the local dialect).  The bus is donated to Elisa in name and operated by Crognaletti Transports. Both Di Francisca and Cerioni hail from Jesi.
Crognaletti Transports will donate 5% of each bus trip purchased on this bus to the IOM (Oncological Institute of the Marche region) to benefit cancer patients receiving care there.  Jesi is in the Marche region.
This is the second bus that has been dedicated to Di Francisca, with the first coming in 2011 following her victory at the 2010 World Championships in Paris.
Should Elisa win gold in Rio, a 3rd bus will await her.
Thanks to gladius for breaking the story on the forums.  You can discuss it in this thread.