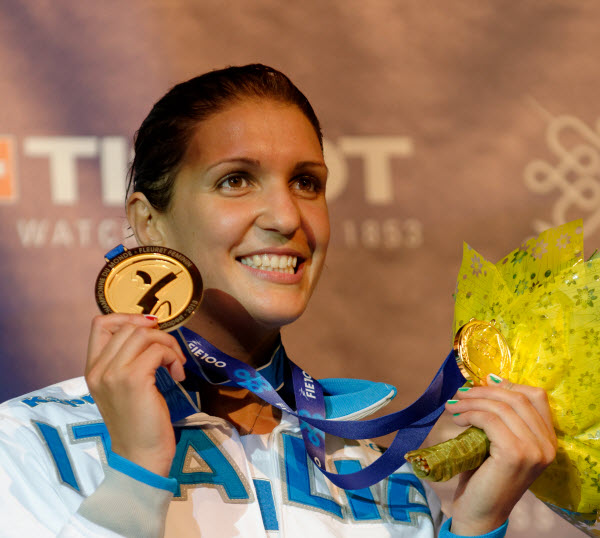 It was an all-Italy final as Arianna Errigo (ITA) dueled Elisa Di Francisca (ITA) to a 15-14 victory in the finals of the 2014 St. Petersburg Women's Foil World Cup. Rounding out the podium, two Russian athletes shared the bronze – Birioukova and Deriglazova, who were knocked out in the semi-finals by scores of 15-12 and 15-10 respectively.
Watch the Final Bout here:
Errigo the new Queen of Swords?
This is the second top finish for Errigo in the 3 world cup events so far this season and places her in a comfortable 30 point lead over world #2 Inna Deriglazova (RUS) who is tied with #3 Carolin Golubitsky (GER). Di Francisca remains in 4th place in the world rankings.
In the top-8, Arianna Errigo handily defeated Astrid Guyart (15-4) while Di Francisca drew Ines Boubakri (TUN) 15-8.
Valentina Vezzali (ITA) and Nam Hyun-Hee (KOR) both lost their matches in the round of 64.
Top US fencers Nzingha Prescod (6th WR) and Lee Kiefer (10th WR) did not compete.
Italy Dominates in Team
In the team event, Italy showed no signs of letting off the gas as they opened their run in the top-8 crushing Hungary 45-19. After that the team of Errigo, Di Francisca, Caroline Erba, and Valentina Vezzali defeated Korea 45-38. In the finals, Italy dominated Russia 45-32. Korea went on to edge out France 43-41 to claim bronze.
Italy now is so far ahead in team points, can anyone catch up?
| | | |
| --- | --- | --- |
| Rank | Pts | Country |
| 1 | 448 | Italy |
| 2 | 340 | France |
| 3 | 324 | Russia |
| 4 | 292 | Korea |
| 5 | 238 | U.S.A. |
| 6 | 219 | Poland |
| 7 | 210 | China |
| 8 | 209 | Canada |
St. Petersburg Women's Foil World Cup – Top 8
| | | |
| --- | --- | --- |
| Rank | Name | Nationality |
| 1 | ERRIGO Arianna | ITA |
| 2 | DI FRANCISCA Elisa | ITA |
| 3 | DERIGLAZOVA Inna | RUS |
| 3 | BIRYUKOVA Yulia | RUS |
| 5 | YAKOVLEVA Diana | RUS |
| 6 | GUYART Astrid | FRA |
| 7 | BOUBAKRI Ines | TUN |
| 8 | WAECHTER Katja | GER |
Top US Results:
| | | | |
| --- | --- | --- | --- |
| 41 | 2 | DUBROVICH Jacqueline | USA |
| 49 | 2 | MASSIALAS Sabrina | USA |
St. Petersburg Team Women's Foil World Cup: Final Results
| | | |
| --- | --- | --- |
| Rank | Pts | Name |
| 1 | 64 | ITALY |
| 2 | 52 | RUSSIA |
| 3 | 40 | KOREA |
| 4 | 36 | FRANCE |
| 5 | 32 | POLAND |
| 6 | 30 | HUNGARY |
| 7 | 28 | JAPAN |
| 8 | 26 | CANADA |
| 9 | 25 | GERMANY |
| 10 | 24 | UKRAINE |
| 11 | 23 | HONG KONG |
| 12 | 22 | CHILE |