Arianna Errigo (ITA) gets her gold, after taking silver in the Olympics. She defeated Carolin Golubytskyi (GER) with a score of 15-8 in just one round.  Valentina Vezzali (ITA) returned to the top-8 but was unable to medal.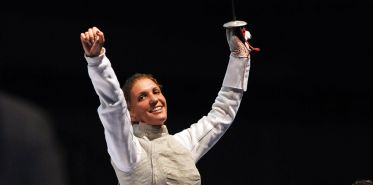 In women's foil, the four top ranked fencers in the world, 2012 Olympic Champion Elisa Di Francisca (ITA), 2012 Olympic silver medallist Arianna Errigo (ITA), Inna Deriglazova (RUS) and Carolin Golubytskyi (GER) made their way easily to the final. Arianna Errigo eliminated in the quarter finals her compatriot Valentina Vezzali 15:8. Vezzali, however, had a strong comeback reaching the top 8 only three months after giving birth to her second child.
In the semi-finals, Golubitskyi caused a big surprise by beating Elisa Di Francisca 13/12 to advance to the final against Arianna Errigo. Errigo who had lost the last two finals at major events to Elisa Di Francisca took her chance and secured her first individual gold medal.
Errigo said after the final: "I am very happy with this gold medal! A few months ago I changed my coach and went to train with Giulio Tomasini. I started to train and fence in different manner and I am glad that all the hard work finally paid off."
Final Results: 2013 Women's Foil Fencing World Championship
|  Rg |  Nom |  Prénom |  Nation |
| --- | --- | --- | --- |
|  1 |  ERRIGO |  Arianna |   ITA |
|  2 |  GOLUBYTSKYI |  Carolin |   GER |
|  3 |  DERIGLAZOVA |  Inna |   RUS |
|  3 |  DI FRANCISCA |  Elisa |   ITA |
|  5 |  KOROBEYNIKOVA |  Larisa |   RUS |
|  6 |  YAKOVLEVA |  Diana |   RUS |
|  7 |  ERBA |  Carolina |   ITA |
|  8 |  VEZZALI |  Valentina |   ITA |
|  9 |  THIBUS |  Ysaora |   FRA |
|  10 |  BOUBAKRI |  Ines |   TUN |
|  11 |  JUNG |  Gil Ok |   KOR |
|  12 |  MAITREJEAN |  Corinne |   FRA |
|  13 |  MOHAMED |  Aida |   HUN |
|  14 |  LELEYKO |  Olga A. |   UKR |
|  15 |  ROSS |  Nicole |   USA |
|  16 |  KNAPEK |  Edina |   HUN |
|  17 |  KIEFER |  Lee |   USA |
|  18 |  PRESCOD |  Nzingha |   USA |
|  19 |  JEON |  Hee Sook |   KOR |
|  20 |  SAUER |  Anne |   GER |
|  21 |  NISHIOKA |  Shiho |   JPN |
|  22 |  CHLEWINSKA |  Karolina |   POL |
|  23 |  LIM |  Seung Min |   KOR |
|  24 |  MICHEL |  Nataly |   MEX |
|  25 |  WAECHTER |  Katja |   GER |
|  26 |  BIRYUKOVA |  Yulia |   RUS |
|  27 |  VARGA |  Katalin |   HUN |
|  28 |  KIM |  Mi Na |   KOR |
|  29 |  BINGENHEIMER |  Sandra |   GER |
|  30 |  SYNORADZKA |  Martyna |   POL |
|  31 |  SHAITO |  Mona |   LIB |
|  32 |  LU |  Yazhu |   CHN |
|  33 |  GUYART |  Astrid |   FRA |
|  34 |  BLAZE |  Anita |   FRA |
|  35 |  MOSKOVSKA |  Anastasiya |   UKR |
|  36 |  GOLDIE |  Alanna |   CAN |
|  37 |  RYAN |  Kelleigh |   CAN |
|  38 |  CHEN |  Bingbing |   CHN |
|  38 |  SINYTA |  Alexandra |   UKR |
|  40 |  ABU BAKAR |  Natasha Ezzra |   MAS |
|  41 |  VARGA |  Gabriella |   HUN |
|  42 |  WANG |  Chen |   CHN |
|  43 |  KANO |  Minami |   JPN |
|  44 |  LU |  Margaret |   USA |
|  45 |  VAN ERVEN GARCIA |  Saskia Loretta |   COL |
|  46 |  CHENTSOVA |  Kateryna |   UKR |
|  47 |  MORMANDI |  Flavia Johana |   ARG |
|  48 |  SUAREZ |  Yulitza |   VEN |
|  49 |  RIVERO |  Liz |   VEN |
|  50 |  JELINSKA |  Martyna |   POL |
|  51 |  LIU |  Yan Wai |   HKG |
|  52 |  REBOLLEDO |  Melissa |   MEX |
|  53 |  MATSUMOTO |  Iyo |   JPN |
|  54 |  KARAMETE |  Irem |   TUR |
|  55 |  CECCHINI |  Gabriela |   BRA |
|  55 |  ROCHEL |  Tais |   BRA |
|  57 |  LYCZBINSKA |  Hanna |   POL |
|  58 |  JIMENEZ |  Isis |   VEN |
|  59 |  YANAOKA |  Haruka |   JPN |
|  60 |  HARVEY |  Eleanor |   CAN |
|  61 |  SHEPPARD |  Natalia |   GBR |
|  62 |  CHEUNG |  Kimberley Vanessa |   HKG |
|  63 |  WANG |  Wenying |   SIN |
|  64 |  CAMACHO |  Adriana |   MEX |
|  65 |  GARCIA AZUA |  Barbara |   CHI |
|  66 |  KHELFAOUI |  Anissa |   ALG |
|  67 |  SHI |  Yun |   CHN |
|  68 |  LIN |  Po Heung |   HKG |
|  69 |  WONG |  Cheryl Ye Han |   SIN |
|  70 |  DABROCK |  Oxana |   MDA |
|  70 |  COMERFORD |  Shannon |   CAN |
|  72 |  ZAMLIN |  Bella |   ISR |
|  73 |  NOGUEIRA |  Debora |   POR |
|  74 |  LIMA |  Tabata |   BRA |
|  75 |  CHANTASUVANNASIN |  Nunta |   THA |
|  76 |  ENRIGHT |  Irene |   FIN |
|  77 |  BUDNIAK |  Jacqueline |   AUS |
|  78 |  LUK |  Hoi Ching Elka |   HKG |
|  79 |  ANG |  Joan Liting |   SIN |
|  80 |  DANIEL |  Claire |   AUS |
|  81 |  BOTROS |  Christine |   BRA |
|  81 |  BONNEY-MILLETT |  Jenny |   AUS |
|  83 |  BATKHUU |  Tsolmon |   MGL |