Veniamin Reshetnikov (RUS) defeated teammate and Olympic bronze medalist, Nikolay Kovalev (RUS), 15-13 in the finals of the 2013 Fencing World Championships for Men's Sabre.

Daryl Homer (USA) placed highest for the US team, but was knocked out of the top-16 by Csanad Gemesi (HUN) – placing 18th.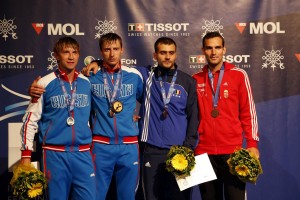 Hungarian 2012 Olympic Champion Aron Szilagyi advanced to the semi-finals, winning in the 16 DE against Aldo Montano (ITA) 15:9 and then against his team mate Csanad Gemesi in an easy manner. Supported by a fantastic home crowd he fought against Veniamin Reshetnikov (RUS). The match was tied for a long time and in the end Reshetnikov managed to make the last hit 15:14. He went on to the gold medal match and prevailed in another close match 15:13 against his compatriot Nikolay Kovalev.
Veniamin Reshetnikov said: "It was very hard to face my own teammate in the final. In this season we met twice on the piste and he succeded both times, so I can be fully happy and satisfied with this victory!"
Aron Szilagyi: "This is the first single world championship medal which I could be happy with, but I definitely wanted to win this semi-final on home turf. I even had my chances, unfortunately he was better prepared. I still have the teams' competition, and I have to get some rest until that. I'm really grateful for the supporters; the atmosphere at the arena was amazing!"
Final Results: 2013 Men's Sabre Fencing World Championships
| Rg |  Nom |  Prénom |  Nation |
| --- | --- | --- | --- |
|  1 |  RESHETNIKOV |  Veniamin |   RUS |
|  2 |  KOVALEV |  Nikolay |   RUS |
|  3 |  DOLNICEANU |  Tiberiu |   ROU |
|  3 |  SZILAGYI |  Aron |   HUN |
|  5 |  BERRE' |  Enrico |   ITA |
|  6 |  HARTUNG |  Max |   GER |
|  7 |  GEMESI |  Csanad |   HUN |
|  8 |  SZATMARI |  Andras |   HUN |
|  9 |  GU |  Bongil |   KOR |
|  10 |  LIMBACH |  Nicolas |   GER |
|  11 |  BUIKEVICH |  Aliaksandr |   BLR |
|  12 |  SAMELE |  Luigi |   ITA |
|  13 |  KIM |  Junghwan |   KOR |
|  14 |  MONTANO |  Aldo |   ITA |
|  15 |  BADEA |  Alin |   ROU |
|  16 |  BAZADZE |  Sandro |   GEO |
|  17 |  OCCHIUZZI |  Diego |   ITA |
|  18 |  HOMER |  Daryl |   USA |
|  19 |  YAKIMENKO |  Alexey |   RUS |
|  20 |  CASARES |  Fernando |   ESP |
|  21 |  IBRAGIMOV |  Kamil |   RUS |
|  22 |  PUNDYK |  Dmytro |   UKR |
|  22 |  SHTURBABIN |  Oleh |   UKR |
|  24 |  BOYKO |  Dmytro |   UKR |
|  25 |  AGRESTA |  Renzo |   BRA |
|  26 |  GALATANU |  Ciprian |   ROU |
|  27 |  APITHY |  Bolade |   FRA |
|  28 |  WOOG |  Alexandre |   ISR |
|  29 |  SZABO |  Matyas |   GER |
|  30 |  PRYIEMKA |  Valery |   BLR |
|  31 |  OH |  Eunseok |   KOR |
|  32 |  LIKHACHEUSKI |  Aliaksei |   BLR |
|  33 |  WAGNER |  Benedikt |   GER |
|  34 |  HONEYBONE |  James |   GBR |
|  35 |  TEODOSIU |  Iulian |   ROU |
|  36 |  DERSHWITZ |  Eli |   USA |
|  37 |  KONIUSZ |  Marcin |   POL |
|  38 |  POLOSSIFAKIS |  Joseph |   CAN |
|  39 |  BEAUDRY |  Philippe |   CAN |
|  40 |  SKRODZKI |  Adam |   POL |
|  41 |  LOW |  Ho Tin |   HKG |
|  42 |  APITHY |  Yemi Geoffrey |   BEN |
|  43 |  ANSTETT |  Vincent |   FRA |
|  44 |  OCHOCKI |  Aleksander |   USA |
|  45 |  VAN HOLSBEKE |  Seppe |   BEL |
|  46 |  WON |  Junho |   KOR |
|  47 |  SPEAR |  Jeff |   USA |
|  48 |  SUN |  Wei |   CHN |
|  49 |  PILLET |  Julien |   FRA |
|  50 |  SHIMAMURA |  Tomohiro |   JPN |
|  51 |  FROLOV |  Yevgeniy |   KAZ |
|  52 |  CHANG |  Chi Hin Cyrus |   HKG |
|  53 |  YAGODKA |  Andriy |   UKR |
|  54 |  KEITA |  Mamoudou |   SEN |
|  55 |  JIANG |  Ke Lu |   CHN |
|  56 |  VU |  Thanh An |   VIE |
|  57 |  SULAMANIDZE |  Saba |   GEO |
|  58 |  ROUSSET |  Nicolas |   FRA |
|  59 |  MORENO |  Pablo |   ESP |
|  60 |  TOKUNAN |  Kenta |   JPN |
|  61 |  GORDON |  Shaul |   CAN |
|  62 |  CHAN |  David Wei Ren |   SIN |
|  63 |  ESCUDERO |  Sergio |   ESP |
|  64 |  AIYENURO |  Soji |   GBR |
|  65 |  BUSTAMANTE |  Ricardo Alberto |   ARG |
|  66 |  RAHBARI |  Mohammad |   IRI |
|  67 |  LAM |  Hin Chung |   HKG |
|  68 |  ROMANOVITCH |  Alexei |   BLR |
|  69 |  GRZEGOREK |  Mikolaj |   POL |
|  70 |  FIRAT |  Caglayan Nehir |   TUR |
|  71 |  TURLYBEKOV |  Zhanserik |   KAZ |
|  72 |  ILIASZ |  Nikolasz |   HUN |
|  73 |  AYALA |  Julian |   MEX |
|  74 |  ELSISSY |  Ziad |   EGY |
|  75 |  LOPEZ MENDEZ |  Alvaro |   ESP |
|  76 |  CARVAJAL |  Jesus |   VEN |
|  77 |  ACUNA RAMIREZ |  Adrian |   MEX |
|  78 |  VEGA |  Juan |   MEX |
|  79 |  RODRIGUEZ |  Abraham |   VEN |
|  80 |  BAHER ARESBARAN |  Farzad |   IRI |
|  81 |  GONZALEZ DALMASY |  Jose M |   PUR |
|  82 |  BURNEV |  Lyuboslav |   BUL |
|  83 |  CRUTCHETT |  Alexander |   GBR |
|  84 |  MOKRETCOV |  Ilya |   KAZ |
|  85 |  PAKDAMAN |  Ali |   IRI |
|  86 |  LEU |  Clive Yi Yang |   SIN |
|  87 |  WU |  Jie |   CHN |
|  88 |  JANSEN BRITO |  Hernan |   VEN |
|  89 |  ADEL |  Aly |   EGY |
|  90 |  CHOY |  Yu Yong |   SIN |
|  91 |  AMR |  Ahmed |   EGY |
|  91 |  BAZADZE |  Beka |   GEO |
|  93 |  WELLER |  Teddy |   ISV |
|  94 |  ABEDINI |  Mojtaba |   IRI |
|  95 |  ARAI |  Kohta |   JPN |
|  96 |  OCINSKI |  Jakub |   POL |
|  97 |  PEROS |  Mark |   CAN |
|  98 |  TANAKA |  Shun |   JPN |
|  99 |  ALSHAMLAN |  Khaled |   KUW |
|  100 |  MULERO |  Guido Eduardo |   ARG |
|  101 |  GUZENSKI |  Tywilliam |   BRA |
|  102 |  ACHTEN |  Alexander |   ARG |
|  103 |  YAN |  Hon Pan |   HKG |
|  104 |  KEITA |  Ibrahima |   SEN |
|  105 |  DOLEZAL |  Jan |   CZE |
|  105 |  MILLER |  Curtis |   GBR |
|  107 |  WILCOCK |  Adam |   AUS |
|  108 |  ARNAUDOV |  Atanas |   BUL |
|  109 |  PEZZI |  Enrico |   BRA |
|  110 |  ZEYTOUNLIAN |  Willian |   BRA |
|  111 |  LEONHARD |  Zak |   AUS |
|  112 |  SCUDDS |  Sutherlan |   AUS |
|  113 |  ANT |  Ibrahim Ahmet |   TUR |
|  114 |  TOBAR MARTINEZ |  Joaquin Alberto |   ESA |
|  115 |  CORREA VILA |  Carlos |   COL |
|  116 |  NOCOM |  Gian Carlo |   PHI |
|  117 |  TILENSHIYEV |  Yeraly |   KAZ |
|  118 |  MAIMON |  Yaniv |   ISR |
|  119 |  TSENG |  Lin Fang |   SIN |
|  120 |  LEAL |  Luis |   VEN |
|  121 |  SARRIS |  Evangelos |   GRE |
|  122 |  BEREZOVSKY |  Maykel |   ISR |
|  122 |  RUIZ |  Tarik |   CHI |
|  124 |  CUELLAR |  Sebastian |   COL |
|  125 |  SRECKOVIC |  Nebojsa |   SRB |
|  126 |  CORREA VILA |  Luis |   COL |
|  126 |  HOSCHNA |  Jan |   CZE |
|  128 |  MARDALEISHVILI |  Mikheil |   GEO |
|  129 |  KASSIM |  Huzaimi |   BRU |
|  130 |  CHANDANA |  Sadesh |   SRI |
|  131 |  HERNANDEZ ESPINAL |  Brayner |   HON |
|  132 |  PEREZ |  Jean |   PAR |