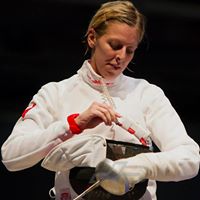 This weekend marks the first Grand Prix of the Women's Epee circuit with the WestEnd Grand Prix "in Memoriam Sakovics Jozsef" this weekend in Budapest, Hungary.
149 fencers will compete for the Grand Prix title beginning with preliminary pools on Feb 1st followed by direct eliminations until the top-64 are set. On Sunday, Feb 2nd the final 64 will fence a single-elimination table to determine the champion. The finals are scheduled for 5pm local time at the WestEnd Shopping Mall.
Missing from the top-10 at this event are China's Sun Yujie and Xu Anqi. Sun placed 10th at the Doha World Cup 2014.
US Fencers competing: Kat Holmes, Natalie Vie, Lindsay Campbell, Lauren Willock.
Follow the fencing action via these links:
Feb 1st – Preliminary Pools: [Live Results – Pools]
Fencers Moving Automatically to Day 2 
The top-16 fencers entered in the event earn automatic placement at the top of the DE table for day 2's top 64.
| World Rank |  Name |  First name |  Country |
| --- | --- | --- | --- |
|  1 |  BRANZA |  Ana Maria |   ROU |
|  2 |  SIVKOVA |  Anna |   RUS |
|  3 |  SZASZ |  Emese |   HUN |
|  4 |  SHIN |  A Lam |   KOR |
|  5 |  BELJAJEVA |  Julia |   EST |
|  8 |  FIAMINGO |  Rossella |   ITA |
|  9 |  GEROUDET |  Tiffany |   SUI |
|  10 |  BESBES |  Sarra |   TUN |
|  11 |  HEIDEMANN |  Britta |   GER |
|  12 |  EMBRICH |  Irina |   EST |
|  13 |  SOZANSKA |  Monika |   GER |
|  14 |  ZVEREVA |  Yana |   RUS |
|  16 |  CHOI |  Injeong |   KOR |
|  17 |  SHEMYAKINA |  Yana |   UKR |
|  18 |  KOLOBOVA |  Violetta |   RUS |
|  19 |  DUPLITZER |  Imke |   GER |
Live Video via UStream:
Live streaming video by Ustream