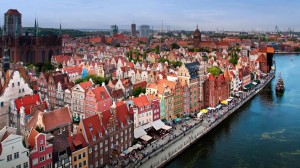 Top ranked women's foilist Arianna Errigo (ITA) takes to the strip this weekend to kick off the FIE Grand Prix circuit. Errigo will be defending her 2013 Grand Prix title where she defeated Astrid Guyart (FRA) 15-9 in the finals.
Italy remains a power in this discipline with 3 fencers in the top 8 of the FIE standings. The US brings two fencers who automatically advance to day two as they are ranked in the top-16 of those competing: Nzingha Prescod (8th), Lee Kiefer (12th), and Nicole Ross (19th).
After the tournament in Gdansk the following World Cup competitions for women's foil will be held February 7-9 Budapest, Hungary (Feb 7-9) and then the Grand Prix in Seoul, South Korea (April). In last year's World Cup tournament FIE florecistek Artus won an Italian Arianna Errigo .
You can follow the Direct Eliminations from the top-64 tomorrow here: http://www.new.pzszerm.ehost.pl/import/4841/tableau1a.html
Results from the Preliminary bouts and DE:
| | | |
| --- | --- | --- |
| Final Place |      Name | Country |
| 65 | LYCZBINSKA Marta | POL |
| 66 | RYAN Kelleigh | CAN |
| 67 | WALCZYK Julia | POL |
| 68 | GROSLAMBERT Delphine | BEL |
| 69 | CIPRIANI Valentina | ITA |
| 70 | YIN Zhu | CHN |
| 71 | WOHLGEMUTH Olivia | AUT |
| 72 | HAMPEL Eva | GER |
| 73 | SHI Yanan | CHN |
| 74 | MASSIALAS Sabrina | USA |
| 74 | RYGIELSKA Emilia | POL |
| 76 | ROMANUS Stephanie | GER |
| 77 | LUPKOVICS Dora | HUN |
| 77 | REBOLLEDO Melissa | MEX |
| 79 | BEHR Leandra | GER |
| 80 | SZYMCZAK Anna | POL |
| 81 | NEHL Inke | GER |
| 82 | CIVIERO Ambre | SUI |
| 83 | MICHEL Nataly | MEX |
| 84 | LUBEIGT Edith | FRA |
| 85 | ZEISS Madison | USA |
| 86 | SULIK Sandra | POL |
| 87 | COOK Catherine | GBR |
| 88 | CARBONE Alejandra-A. | ARG |
| 89 | SIBERT Catriona | GBR |
| 90 | CHRZANOWSKA Julia | POL |
| 91 | MEZA OCEGUERA Victoria Maria Isabel | MEX |
| 92 | HERNANDEZ Aidee | MEX |
| 93 | WALZHOFER Nicole | AUT |
| 94 | HERNANDEZ Alely | MEX |
| 95 | CASILLAS Lydia | MEX |
| 96 | IBANEZ Delfina | ARG |
| 97 | CORREA Celia | MEX |
| 98 | TERNI Maria Ludmila | ARG |
| 99 | VILLASENOR Nora Elena | MEX |
| 100 | LIMA Tabata | BRA |