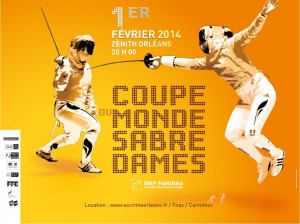 This weekend boasts a large number of international fencing events as there are two Grand Prix and a World Cup event at the senior level along with a host of Junior World Cup events. We focus here on the Orleans Grand Prix: Trophée BNP-Paribas
The Orleans Fencing Club is putting on the 16th Trophée BNP-Paribas FIE Grand Prix events from January 31 to February 1, 2014.
Top ranked Olga Kharlan (UKR) , is the reigning World Champion and winner of the 2013 edition of BNP PARIBAS Trophy will fight to establish herself as the leader for the 2014 fencing season. Looking to unseat here is two-time Olympic Gold medalist Mariel Zagunis (USA) – currently ranked 2nd in the FIE standings. 2012 Olympic Champion Kim Jiyeon (KOR) Olympic champion in 2012 and Ekaterina Dyachenko (RUS) will also contend for the top spot.
This is one of 8 events on the Women's Sabre Senior FIE circuit with the finals scheduled for Saturday, February 1 at 20:00 at the Zenith d'Orléans with the finals at the Sports Palace of Orleans.
As a Grand Prix event it is worth 1.5 times the FIE points awarded for World Cup finishes. Competing are 120 women from 24 nations and 5 continents.
US fencers competing include:
Mariel Zagunis
Dagmara Wozniak
Ibtihaj Muhammad
Daria Schneider
Faizah Muhammad
Anne-Elizabeth Stone
Monica Aksamit
Sage Palmedo
Orleans, FRA Jan. 31-Feb. 2, 2014
Follow the Direct Elimination table live via the official web site: 
http://www.fencingworldwide.com/en/competition/1027-13/direct/2
Live Stream of the Direct Elimination Matches:
Live Stream of the Finals:
There have been a few videos posted promoting this event. Here's a look at one of them:
Twitter hashtag: #cdmsabre2014
Related Links:
Discuss on Forums: https://fencing.net/forums/thread72899.html
Interview with Cecilia Berder (FRA) (via Tumblr)