Men's and Women's Epee Preview before Heidenheim and Barcelona:
(PLEASE SHARE WITH YOUR FENCING FRIENDS)
This is a regular update column from David Baker who has been maintaining a tracking list of the points earned by individuals and teams for Olympic Fencing Qualification. You can read how fencers and teams qualify for the Olympic Games in our Road to Rio Primer.
As we saw in Men's Foil last weekend, the 4th qualification weekend for teams can have a drastic impact – especially when the points are so heavily weighted to the top finishers. I'll hold off on an individual preview until afterwards as well, as the rankings change so much with the team standings.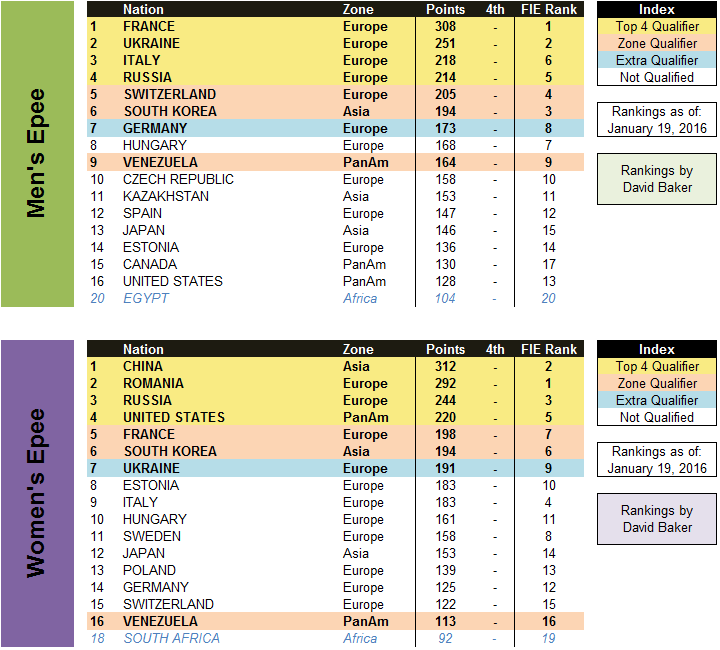 In Men's Epee, my view is that the top 5 European teams are secure. Qualified already are FRANCE and UKRAINE. SOUTH KOREA will have to improve significantly to displace RUSSIA or ITALY in the top 4. VENEZUALA will qualify.
As it stands, EGYPT are outside the top 16 so will forfeit their zonal place to GERMANY. Only 5 points behind are HUNGARY and I think this will go down to the wire. Don't forget about the CZECH REPUBLIC, especially if they upset someone in the last 16. If SOUTH KOREA win Heidenheim then this whole thing gets turned upside down, mostly to the benefit of KAZAKHSTAN.
In Women's Epee: CHINA, ROMANIA and probably RUSSIA have done enough to finish in the top 4. SOUTH KOREA is by far the next best Asian team. Currently 4th is the UNITED STATES – if they can stay inside the top 4 this will primarily benefit the VENEZUELA team.
No African team will finish in the top 16 so the place is available to the next highest ranked team. Currently this place is held by UKRAINE, but ESTONIA and ITALY are fractionally away – with HUNGARY and SWEDEN not out of the race as yet.
I'm refereeing the Women's event in Barcelona this weekend, so apologies if the updates and analysis come later than usual. That said, I'm usually fairly good with my laptop and a beer in an airport lounge!
Dave
You can follow updates as they happen on Dave's Rio 2016 Qualification Facebook Page.