Italy will qualify for Men's Team Epee as European teams clash for a qualification spot.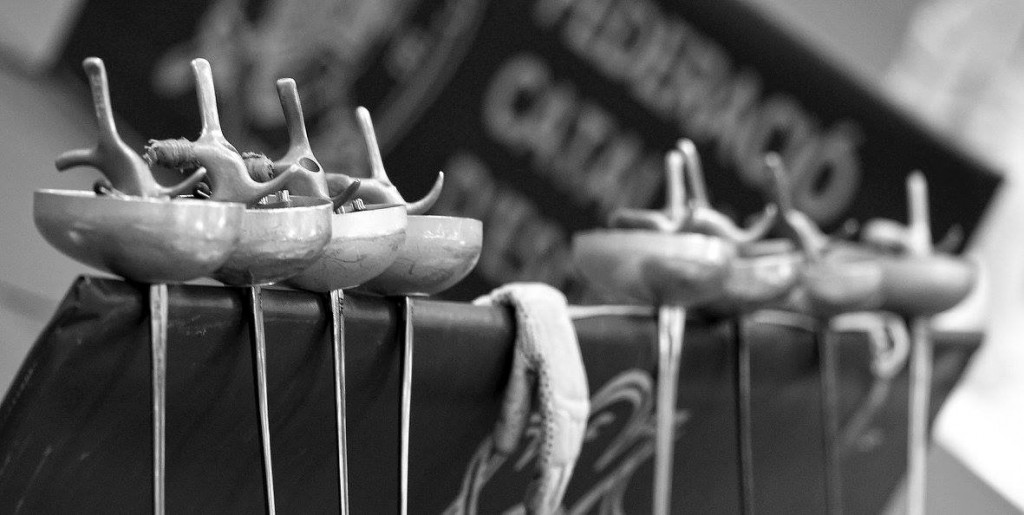 One team needed to step up this weekend and unsurprisingly ITALY's superb team win in Heidenheim has confirmed that they will qualify for the Olympic Games alongside FRANCE and UKRAINE.
RUSSIA and SWITZERLAND are within 1 point of each other for the race between the 4th and 5th place. Both of these teams will be in Rio unless the SOUTH KOREA team finish inside the top 5 in Vancouver (without RUSSIA and SWITZERLAND improving on their 4th place) and spoil the party – to the benefit of (probably) KAZAKHSTAN.
Get more qualification updates from the Qualification for Rio Facebook page.
Last update we said the race between GERMANY and HUNGARY for the Extra Qualification place would be the one to watch. This has now more interesting for 2 reasons:
After GERMANY lost to BRAZIL in the last 32, HUNGARY consolidated their advantage with a very solid 5th place finish. Without a CZECH REPUBLIC or GERMANY top 3 finish in Vancouver, HUNGARY will take the extra place, unless…..
According to what I can see on the FIE website, EGYPT had their best ever result at a Senior World Cup – finishing 10th. This moves them to 19th position, but only 16 points (8 points difference plus their 8 points 4th result) outside the top 16. Another last 16 finish in Vancouver could be enough to enough to sneak inside the final top 16 – meaning HUNGARY would miss out. This is of course dependent on results of CANADA (15th), USA (16th), ISRAEL (17th), POLAND (19th) and CHINA (20th) – who are all within 10 points of 16th place.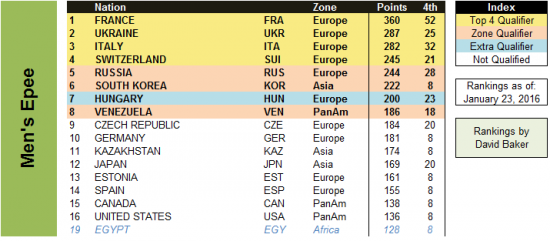 Teams currently qualified:
France
Ukraine
Italy
Switzerland
Russia
South Korea
Hungary
Venezuela
Men's Epee Individual Qualification
Given the highly variable scenarios for Team Qualification, I would prefer to be in the the first Zonal qualifier position than the second! Both Bas VERWIJLEN (NED) and Nikolai NOVOSJOLOV (EST) extended their lead for the European zonal places – I would prefer to be in Bas's position if either EGYPT or SOUTH KOREA do well in Vancouver.
Outside of Europe and fencers from the Pan-Am qualified team, VENEZUELA, Benjamin BRATTON (USA) gained a point on Jason PRYOR (USA) to challenge for one of the Pan-Am places. Maxime BRINCK-CROTEAU (CAN) looks comfortable for a Pan-Am place but will have to hold off a L16 or better results from Reynier HENRIQUEZ ORTIZ (CUB) or John Edison RODRIGUEZ (COL).
The rest of the positions are fairly clear: without major team changes I expect MINOBE Kazuyasu (JPN) and JIAO Yunlong (CHN) to qualify from the Asian zone, and Alexandre BOUZAID (SEN) from the African zone.