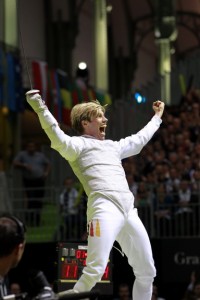 Peter Joppich (GER) won his 4th world championship title by defeating Sheng Lei (CHN) 15-11 in the gold medal bout.  Joppich and Lei were joined on the medal stand by bronze medal winners Yuki Ota (JPN) and Gerek Meinhardt (USA).
Joppich also won world titles in 2003, 2006 and 2007.
The Italians showed up in force in Women's Foil where Elisa Di Francesca (ITA) claimed her first world championship in an all-Italy final against Arianna Errigo (ITA).  Both women shared the bronze in 2009.  Errigo defeated 5-time world champion Valentina Vezzali (ITA) in the semi-finals.  Hyun-Hee Nam (KOR) shared 3rd place with Vezzali.
Strong US Men's Squad puts 2 into top-8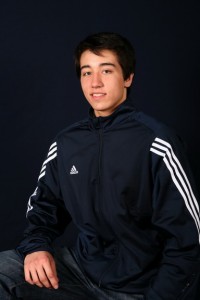 Meinhardt led one of the strongest men's foil squads in recent history with 3 fencers seeded into the top-16 at the beginning of the day's competition.  Alex Massialas fenced in the preliminary round and entered the second day seeded 32nd where he lost to Benjamin Kleibrink (GER).
Kurt Getz, who placed in the top-8 in 2009, defeated Carlos Rodriguez (VEN) but then fell to Jun Heo (KOR) 15-7 in the round of 32.  Miles Chamley-Watson posted victories against Bogdan Gurinenko (UKR), Peter Biro (HUN), and Alexey Cheremisinov (RUS) to make his way into the top-8.  In the quarter-finals Chamley-Watson fell to Lei (CHN) 15-10.
Women's Foilists make Top-32
Three of the 4 US women fencing today advanced into the round of 32.  Nicole Ross won her first match against Kanae Ikehata (JPN) before losing to 5th seed Hee Sook Jeon (KOR).  Lee Kiefer beat Sandra Kleinberger (AUT) before losing to Di Francisca (ITA).  Nzingha Prescod posted a commanding 15-3 victory over 18th seed Karolina Chlewinska (POL) before narrowly losing a 10-9 match to Fanny Kreiss (HUN).  Doris Willette lost her opening round match to Mi Jung Seo  (KOR) 13-10.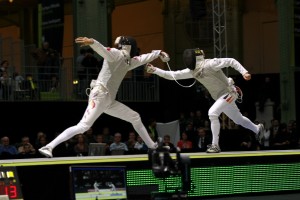 Final Results: Men's Foil
1. Peter Joppich (GER)
2. Sheng Lei (CHN)
3. Gerek Meinhardt (USA)
3. Yuki Ota (JPN)
5. Miles Chamley-Watson (USA)
22. Kurt Getz (USA)
43. Alex Massialas
Final Results: Women's Foil
1. Elisa Di Francesca (ITA)
2. Arianna Errigo (ITA)
3. Valentina Vezzali (ITA)
4. Hyun-Hee Nam (KOR)
27. Lee Kiefer
28. Nicole Ross
32. Nzingha Prescod
40. Doris Willette