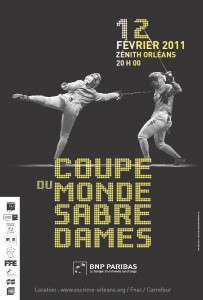 Mariel Zagunis continued her march to London 2012 with a commanding performance in the finals in Orleans, France.  She defeated the Cecilia Berder (FRA) 15-4 in the final bout in front of an audience of 5,000.  In the semi-finals, Zagunis dispatched Russian Sohpia Velikaia 15-5.  Velikaia's teammate, Ekaterina Diatchenko (RUS) tied with Velikaia for 3rd.
Zagunis' chief rival, Olga Kharlan (UKR) stumbled early, losing in the top-32 to Berder.  Kharlan would finish 17th.
Dagmara Wozniak (USA) notched a top-32 finish.  She placed 19th after a win against Loretta Gulotta (ITA) before losing to Irena Wieckowska (POL) 15-13.  Other US finishes in the top-64 include Ibtihaj Muhammad (41st), Celina Merza (48th), Daria Schneider (61st).
Men's Epee scores points in Doha
Meanwhile, Seth Kelsey and Jimmy Moody notched top-16 finishes at the Men's Epee Grand Prix in Doha.  They finished 10th and 14th respectively.  Kelsey lost to eventual champion Geza Imre (HUN) 15-9 and Moody lost 15-14 to Jean-Michel Lucenay (FRA).
US Women stopped in the 64
The US Women's Foilists were shut out of the top-32 at the Reinhold-Würth-Cup in Tauberbischofsheim, Germany.  The top US finishers were Ambika Singh (38th), Lee Kiefer (39th) Margaret Lu (49th) and Mona Shaito (55th).
In early action on Sunday, the US Women's epee fencing duo of Kelley and Courtney Hurley were ousted in the top-64.  The highlight was Maya Lawrence who defeated "The Wasp" Laura Flessel-Colovic (FRA) 13-11 in the 64 but then lost in the 32 to Anna Sikova (RUS) 15-10.
On Monday, the US Men's Epee squad competes in the Doha team event.