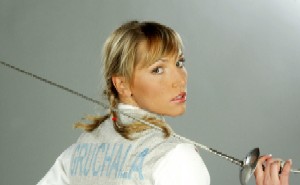 Sylwia Gruchala is on the top ranked Polish Women's Foil team and is ranked 2nd in the world among individual women's foilists. She was 2nd place at the 2003 World Championships and a member of the 2003 World Champion Women's Foil team. She took some time recently to answer some questions from Fencing.Net
How did you start fencing? What brought you into the sport and why did you continue to compete?
In my primary school (in Poland from 7-15 years) which was a sports school, in the fourth grade we had to choose a profile. I wanted to attend an athletics class, unfortunately it was abolished and the only sports profile I could choose was fencing (in Gdansk we have only women's foil). At first I didn't like it. I wanted to quit but my coach, Longin Szmit, always believed in me and saw a great talent in me. He used to use many tricks to make me work hard on my skills.
Then first competitions came and first successes with them, I started to enjoy fencing more and more…
What is an average day of training like? What do you do outside of fencing?
I usually train about 1 hour in the morning and two hours in the afternoon, we also go to many training camps. When I go to camps I have about two hours of training in the morning and 2 in the afternoon. I also spend time in saunas. In real life I'm a student at Akademia Wychowania Fizycznego in Gdansk and I take English lessons, after the Olympics I want to start studying psychology.
In the United States we see our top fencers having to stop fencing once they graduate from university as they go to look for jobs. What kind of support are you receiving from the Polish fencing federation?
Fencing isn't tennis but I manage.
I receive some money from the Polish Fencing Federation. I also have a individual sponsor a building company "J.W. Construction" run by Mr. Jozef Wojciechowski and a team sponsor "PKO BP" a Polish bank, I also have a club sponsor "SIETOM". The support I'm getting from them lets me be focused on training with out worrying about money.

What should a junior fencer be working on, to be successful as an adult fencer?
I think that in fencing the most important element is the mental condition. To be honest I think that 90% of success depends on it. If you are well focused and can stand the pressure and control your emotions you are a winner.

You have gradually progressed on the individual ranks from an 11th place finish in the 1999 World Championships to finishing 2nd in Cuba, losing to Valentina Vezzali of Italy. Winning an individual Gold Medal at the Olympics looks possible. What is it going to take for you to be able to beat Vezzali for the gold medal in Athens in 2004?
Valentina is a great fencer. In 2003 we stood against each other 4 times of which I won 2, unfortunately she beat me in the most important event this year – the World Championships. I hope to have my revenge in Athens and I will do my best to reach for the Gold Medal. In my opinion only the first place is a winner, second is always second.
You do very well in the individual events and Poland has a strong Women's Foil Team; what changes do you have to make to adjust to fencing in the team event?
The team event is different from the individual. You could say the pressure is bigger in the team event because you fight not only for yourself but also for your team mates. I always try to do my best. I am always the last finishing in the team event, my job is to get the last winning point for the team, it is very similar to what I have do in the individual event only there I am responsible only for myself.
I prefer the individual event.
What do you think about the proposed changes to Foil rules?
I don't think they will take place.
Aside from fencing, what are your goals? What do you hope to do once you stop competing?
Oh, I have many goals! First of all I want to have a family and be a good wife and have children. Apart from that as I said I want to study psychology and in the future work with other athletes and help them with their mental conditioning as I think that it is the most important element of every sport.