Most people dream of lazy days after retirement, not Soren Thompson.  After his three year retirement from fencing, he came back to win nationals, qualify for his second Olympics, be the 2011 Zonal champion, and become a World Champion to cap it all off!  Fencing.net caught up with Soren after his win at the Cinco de Mayo tournament in Portland.
KM: How does it feel to be a two time Olympian?
I was happy to finish the qualification period on a high note (top 8 ranking in the world) and am looking forward to lead up to the Games.  Initially I didn't know if I could put my whole life on hold to make a run at a second Olympics, but I worked everything out with the company I work for and decided to take the chance.
KM: What type of things did you put on hold?
When you are trying for the Olympics, you have to give 100% to the sport.  Fortunately, I was able to stay employed by taking a reduced role and by working remotely this past year.  Keeping my job allowed me to fund my training and living expenses while I pursued my Olympic goal.
KM: How was working at a business like Hycrete helpful?
The company has been immensely helpful.  It's very hard to find a situation where it is possible to work and fence at the same time.  I gained a great deal of experience, knowledge and responsibility between 2008 and 2011.  That's what put me in a position to be productive for the company even in a non-traditional capacity.
I manage Hycrete's international business so I was used to working unusual hours to connect with clients in many different time zones.  I've kept doing the same work, but fit my hours around whatever training and competitions I have around the world.
KM: How did you find something like this?
I started working at Hycrete after the 2008 season.  David Rosenberg is the founder of Hycrete and a close and a former training partner.  When he was building his team he approached me and I accepted.  Since then I worked my way up through various parts of the company to become the head of international business.
Over time I figured out ways to train and work at the same time.  I was always very busy, but it was worth it for me to devote my free time, weekends and vacation days to my fencing career.  Eventually I had to make a choice because I needed to travel more and spend longer periods overseas.  That's when I approached the CEO about converting to a contractor from full time employee.
KM: What type of consulting work do you do?
Hycrete is a construction technology company.  We make environmentally friendly products that enhance concrete durability and performance.  I do international business development and support our business partners around the world.
KM: What was your degree in?
I studied architectural history through Princeton's Art and Archaeology department.  I probably would have been an architecture major, but I did not have enough time to complete my studio work and travel for fencing.
KM: Was it because of the Olympics in 2004 that you met up with David Rosenberg?  
He was a training partner at that time, but we did not connect on a professional level until four years later.  He approached me.  It was a good fit where what he needed for the company matched what I was looking for personally.
KM: Do you think it is possible to find jobs like Hycrete easily?
It is a challenge for athletes to find positions like mine.  The biggest mistake is hoping for charity.  No company will hire somebody unless that individual is going to provide value. That's just bad business.
I was working and barely fencing for three years.  I was focusing on my job.  That is what put me in the position to even consider going back into fencing while maintaining my employment.
Eventually I looked at the possibility of fencing at a high level again but only because I had laid down the foundation at my job.  I was financially secure enough and had the knowledge and skills to continue working anywhere in the world.  It took a lot of hard work to develop a situation where my professional goals and athletic goals could coexist.
That is the challenge; finding the balance between the fencing and the career so you can accomplish both things in what you want.  How to unleash your fencing and not be destitute!
KM: Now that you are coming up on the Olympics, what are you doing to get ready?
I am walking a fine line between training hard and rehabbing my injured knee.   I want to get to the games pain free but at the same time be where I need to be physically and technically to compete.
We're just several weeks out from the Games now.  I will be in Paris with the US men's epee team and coaches for a training camp.  This will be my most important training for the Olympics.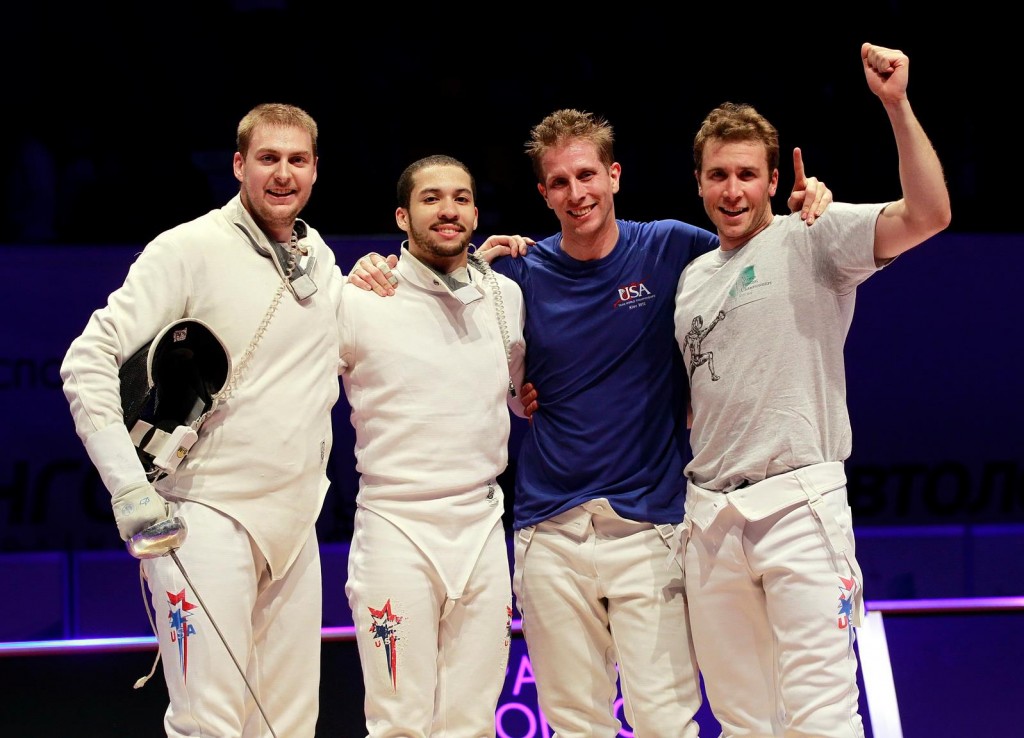 KM: OK, to a real fun question, how does it feel to be World champions?
As a team, we really emphasized the team event.  We looked at being a team and not just a collection of individuals competing together.  It can be difficult to shift the mindset when we grow up in such an individual sport, but I believe that's what is necessary to have success in team events.
Cody, Seth and I have been the team for most of the last 10 years and Ben has been with the team for about the past six years.  We have been through lots of highs and lows together.  It took a lot of hard work and many learning experiences to set us up to succeed at such a major championships.
Sebastien [Dos Santos] has been absolutely fantastic and we couldn't have done it without him.  He helped us perform even better as a team and as individuals.  It is huge testament that we were able to qualify the maximum of two fencers because very few nations were able to do that.  It is especially challenging to achieve the individual goals and still win team.
KM: How was it fencing your arch-nemesis, France, for the gold?
I don't know if they are our arch nemesis, for the past eight years they have been the arch-nemesis of the world!  They have won every World and Olympic Championships for so long, since 2004.  That consistency is unheard of.  They were considered unbeatable.
It felt better to beat them instead of another country for the gold because it validated our accomplishment.  If they had gotten knocked out earlier, everyone would have asked, "What if France had made the final?"  They would have said we were lucky because hadn't faced the best in the world.  The fact that we did beat them proved how well we fenced.
KM: How is it looking for you coming in to individuals at the Olympics after the historic win at World's?
I don't think the result at World Championships will impact the Olympics very much.  Success at the high level is so specialized now, it's really remarkable.  Team strategies are often very different than what you see in individual.  The Olympics is a very small, highly concentrated individual competition.  I'm training to be ready for a tough environment and the best competition in the world.
KM: How did it feel knowing that another teammate's fate of going to the Olympics rested on you staying in the top 12?
I felt pretty good in terms of pressure.  From the early part of the qualification period I was in a strong position.  At a certain point I knew that the better I did the better it was for Seth.  I didn't need much motivation to try to keep winning, but it was great to know that I could help my teammate and the whole men's epee program by performing well!
KM: Last thoughts?
I'm thinking more about the work that I have to do rather than the competition itself right now.
It really was a hard decision to try and make the Olympics after being out of international fencing for a few years.  It is extremely draining and demanding to pursue something like this, but nothing is more fun.  And, so far so good!  I made the Olympics, got a gold at World's, won at Nationals and Zonals.  The process is not quite finished, so maybe check back in a couple weeks to get my final final thoughts.
KM: We're just glad that you are back in the sport and representing the US again at the Olympics!
(Soren's Athlete Facebook page can be found at: http://www.facebook.com/pages/Soren-Thompson/258346350846446)