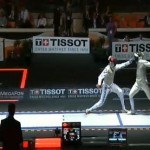 Andrea Cassara (ITA) solidified his position as the world's #1 foilist with his dramatic 15-14 comeback win over Valereo Aspromonte (ITA).  This event may have been called the Italian invitational as 3 of the final-4 were from Italy.
Aspromonte started the bout off strong, baiting Cassara's attack and scoring on counters and ripostes to open up an 11-6 lead.  With 30 seconds to go in the 1st period, Cassara was able to change up tactics to bring the score within 2 and ended the first period at 11-13.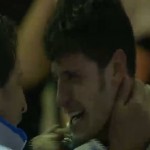 In the second period, Cassara scored two straight touches to tie the score at 13.  Then Apromonte went ahead 14-13.  Cassara tied the match at 14 on a counter-time action and then scored the final point on a counter-riposte.
The semi-finals featured another Italian match as Aspromonte defeated a cagey Giorgio Avola (ITA) 14-13.  The match went slowly at first as both fencers fought for control of the distance.  The second period ended with the score knotted 7-all. In the 3rd, Aspromonte pulled ahead 13-11 with only 4 seconds left.  Avola rushed in and got hit with a riposte to put him down 11-14, then rushed at Aspromonte two more times to bring the score to 14-13.  Avola's last attack would not make it in time, however, as time expired and sent Aspromonte to the finals.
Cassara provided a much less dramatic second semi-final, destroying Victor Sintes (FRA).  Cassara hit Sintes at will and opened up an 8-0 lead, closing the first period up 10-4.  Towards the end of the first period and into the second period Sintes finally attempted to change tactics, but it was all too little too late and Cassara scored 5 straight touches to end the bout 15-5.
Race Imboden turned in the best performance for the United States with an 8th place finish.  In the round of 16, he provided the match of the tournament in knocking off 4 time world champion Peter Joppich (GER).  Imboden would fall to Sintes 15-11 in their quarter-final match.
Final Results: Men's Foil World Championship
| | | |
| --- | --- | --- |
| Rank | Name | Nationality |
| 1 | CASSARA Andrea | ITA |
| 2 | ASPROMONTE Valerio | ITA |
| 3 | AVOLA Giorgio | ITA |
| 3 | SINTES Victor | FRA |
| 5 | EL SAYED ABOUELKASSEM Alaaeldin Mohamed | EGY |
| 6 | CHEREMISINOV Alexey | RUS |
| 7 | CHOI Byung Chul | KOR |
| 8 | IMBODEN Race | USA |
| 9 | LEI Sheng | CHN |
| 10 | JOPPICH Peter | GER |
| 11 | OTA Yuki | JPN |
| 12 | LE PECHOUX Erwan | FRA |
| 13 | MEINHARDT Gerek | USA |
| 14 | SCHLOSSER Roland | AUT |
| 15 | CHIDA Kenta | JPN |
| 16 | BACHMANN Sebastian | GER |
| 17 | BALDINI Andrea | ITA |
| 18 | KWON Young Ho | KOR |
| 19 | HINTERSEER Tobias | AUT |
| 20 | DARABAN Radu | ROU |
| 21 | RIGINE Dmitri | RUS |
| 22 | HERTSYK Rostyslav | UKR |
| 23 | MASSIALAS Alexander | USA |
| 24 | WESSELS Andre | GER |
| 25 | ZHANG Liangliang | CHN |
| 26 | KLEIBRINK Benjamin | GER |
| 27 | KENBER Jamie | GBR |
| 28 | KONTOCHRISTOPOULOS Nikolaos | GRE |
| 29 | LALONDE TURBIDE Etienne | CAN |
| 30 | ZHU Jun | CHN |
| 31 | KAWIECKI Pawel | POL |
| 32 | RAJSKI Leszek | POL |
| 33 | CHAMLEY-WATSON Miles | USA |
| 34 | HALSTED Laurence | GBR |
| 35 | KRUSE Richard | GBR |
| 36 | GANEEV Renal | RUS |
| 37 | MARCILLOUX Marcel | FRA |
| 38 | GLONEK Radoslaw | POL |
| 39 | KIIL Filip | DEN |
| 40 | JEONG Chang Young | KOR |
| 41 | CHOI Nicholas Edward | HKG |
| 42 | MIYAKE Ryo | JPN |
| 43 | OR Tomer | ISR |
| 44 | PRANZ Rene | AUT |
| 45 | ZAWADA Marcin | POL |
| 46 | SANTOS Gael | POR |
| 47 | JOVANOVIC Bojan | CRO |
| 48 | SEDOV Artem | RUS |
| 49 | HEO Jun | KOR |
| 50 | HUANG Liangcai | CHN |
| 51 | YUNES Klod | UKR |
| 52 | AWAJI Suguru | JPN |
| 53 | HATOEL Maor | ISR |
| 54 | BYK Siarhei | BLR |
| 55 | GUYART Brice | FRA |
| 55 | SZABADOS Kristof | HUN |
| 57 | CHOUPENITCH Alexander | CZE |
| 58 | GOMEZ Daniel | MEX |
| 59 | BORST Sebastiaan | NED |
| 60 | CHU Wing Hong | HKG |
| 61 | TEISSEIRE Nicolas | CAN |
| 62 | SMANDI Mohamed | TUN |
| 63 | KAMOUN Karim | TUN |
| 64 | KOLTYGO Volodymyr | UKR |