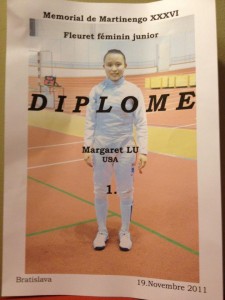 Margaret Lu led US results this weekend as there were Junior World Cups for all 6 fencing disciplines this weekend.
Lu won the Junior Women's Foil event and was joined in the top-8 by Jennifer Yamin (5th) and Jacqueline Dubrovich (7th).
Other US fencers posted final-8 results in Women's Epee (Aleina Edwards, 8th) and Women's Saber (Francesca Russo, 8th).
Full Results from Bratislava (MF/WF/ME/WE): Link
Full Results from Poland (MS/WS): Link
US Results:
Junior Women's Foil
1 LU Margaret USA
5 YAMIN Jennifer USA
7 DUBROVICH Jacqueline USA
11 PRESCOD Nzingha USA
18 SINGH Ambika USA
35 PARMACEK Sarah USA
39 MCKEE Nicole USA
50 TAFFEL Sara USA
63 MASSIALAS Sabrina USA
87 WANG Luona USA
89 TSUE Ashley USA
130 YUH Hyun-Kyung USA
Junior Men's Foil
10 CHANG Jerry USA
14 WOO Michael USA
15 MAGERAS Stephen USA
16 BLITZER Max USA
20 DUDEY Michael USA
21 GOLDSTEIN Jeremy USA
37 BRAVO Nobuo USA
41 NUNZIATO Robert USA
43 CHEN Rodney USA
45 KANESHIGE Brian USA
77 CALDWELL Turner USA
80 MATHIEU Adam USA
Junior Women' Epee
8 EDWARDS Aleina USA
11 HOLMES Katharine USA
21 VAN BRUMMEN Anna USA
26 ABEND Audrey USA
47 VAN LOON Nina USA
48 SIRICO Amanda USA
49 TSINIS Diana USA
53 SEVERSON Ashley USA
69 O'NEILL-LYUBLINSKY Jessica USA
76 BARNA Isabella USA
115 WASHINGTON Isis USA
157 HOROWITZ Jennifer USA
Junior Men's Epee
22 NOLLNER Dylan USA
30 WAN Justin USA
44 KOESTER Logan USA
56 RAFIDI Joseph USA
58 RAYNIS Jake USA
88 AMANN Spencer USA
91 JONES Simon USA
92 HOUSE Alex USA
93 FISHLER Clifford USA
110 ELDEIB Alexander USA
114 WILEY Joseph USA
148 MEDLEY Gavin USA
Junior Women's Saber
8 RUSSO Francesca USA
18 PALMEDO Sage USA
21 MCDONALD Margaret USA
23 MERZA Celina USA
27 JOHNSON Lena USA
30 POWERS Skyla USA
40 GLON Nicole USA
54 ZHAO Erica USA
56 LEE Allison USA
61 KULMACZ Claudia USA
83 PINESCHI Anastasia USA
Junior Men's Saber
32 PUKAL Bartosz USA
35 JOSEPHS Michael USA
40 BUCHWALD Isaac USA
46 PAK Peter USA
67 STREETS Kaito USA
73 LOSS Geoffrey USA
75 HALLSTEN John USA
76 SPEAR Will USA
78 KIM Daniel USA
101 YANG Steven USA
102 DERSHWITZ Eli USA
102 O'BRIEN Duncan USA