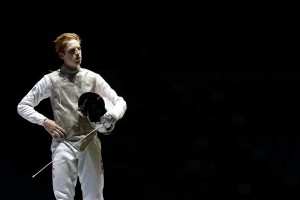 Race Imboden is a bit of an enigma. How many athletes in one year can make the transition from fencing in their first Cadet and Junior Worlds to making the final 8 at the Senior World Championships? Not many. Fencing.net caught up with Race hours after the announcement of the Olympic team at the Div. 1 Championships in Virginia Beach, VA.
How about a breakout season in an Olympic qualifying year!
Race: Yeah, how about that! After last season and making the senior national team and going to World's in Catania, I decided to see what I could do for this year! After Catania, I thought, "Well there could be a possibility of going to London."
I was just thanking my lucky star that if I was going to start to peak; now is the time!
What was the change in mental mindset going from your first world team, to thinking that you really could make this next Olympics?
Race: I've always looked at things the same. When I was 16, I said I wanted to go to the Olympic Games. When I was 18, I said I wanted to go to the Olympic Games. I've kept working and working towards that goal and as it got closer and everyone said, "You've got it set!", I kept telling myself, "No I've got to keep going, the team hasn't been announced yet."
It was that single focus on being in the Olympic Games. I had always said that Rio [Ed. Note. Location of 2016 Summer Olympics] is my games, but this one [Ed. note. London Olympics] kind of kept coming up as a possibility.
I just kept my cool and kept working on my game and look what happened!
So some people were saying, "Wait your turn. Your time is coming." but you just kept your head down and kept plowing on! What were the nay-sayers telling you?
Race: HA! I was my biggest nay-sayer!
I was always the one who was always fighting for everything. I fought to get on the Div. 1 circuit. I fought to get on the national team. I fought to get on the Olympic team. I just kept my head down; kept fighting, and kept moving forward and then I made my first Jr. Team in 2010 and then made my first Sr. team in 2011.
I talked with my coach [Ed. Note. Jed Dupree, 2004 Olympic Team] and he just said, "We're going to tackle this season like any other, but when you are ready to make your big push, then we'll get going."
It was the same thing we did when we approached the 2010 Cadet and Junior season. Jed told me, "When you are mentally ready to make that push towards the Olympics, we'll start."
Well, after Catania, I was ready and he was ready, and together we made the push forward.
It's also great to have a strong support team. Jed and Sean [Ed. Note. McClain of Empire United Fencing] always talk together about my lessons and strategies, even though I get most of my lessons from Jed. Also, my parents have been supportive with all of the training and traveling that I have to do.
I went to public school for a long time, but it was hard with all of my travels. A friend heard about my challenges with school and travel schedule and he got me involved with the Dwight School in upper Manhattan. They have an excellent IB program and they understood my rigors for training and they gave me the best of both worlds; great academics and flexibility to travel.
So the move from Cadets, to Juniors, and to Seniors was quite a change. Now that you made the team, what will your change in mentality be like going into the Olympics?
Race: It's still been the same thing. I am happy to be in the games, but I want a medal! I have a lot of goals and accomplishments that I want to do…
Any that you care to share….
Well, I'm going to keep that to myself for right now!
I had to ask!
HA! Sure! A medal at the games has always been on the list.
When you went into your first Senior World Championships in Catania, Italy, most people weren't expecting much from you because it was your very first Worlds. Then you go there, get to the finals, and take an 8th place at your first Worlds. What type of things were you hearing from people that were around you from other countries before your eighth place finish?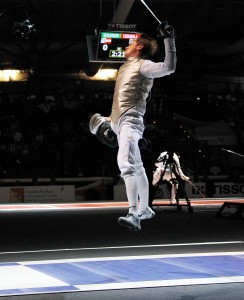 HA! It's kind of funny. Let me first say that I'm a self-proclaimed fencing geek! I love watching fencing videos!
I have watched all of those other foilists dozens of times on Youtube! I will spend my nights sitting down and watching videos of all of these guys. I really do enjoy it!
I knew all of these competitors because I have frequently studied their videos online. So when they saw me, they had no idea who I was.
I remember there were a couple of the Italians who ignored me and kind of brushed me off when I tried to talk to them. They had no idea who I was: but I knew who they were because I had studied them so often. It put a burn in my belly that they would know who I was.
When I had to face Peter Joppich [Ed. Note. Germany's Four-time World Champion] to get to the finals, I was like, "Race, this is that moment when you have to step up" and I went on to win a grueling bout! Then I met Joppich again in Paris a few months later in the quarters and beat him again to prove it wasn't a fluke.
So you and Alex Massialas didn't need to fence at this Apr NAC. What was it like to be able to take a break knowing you are on the Olympic team and you could just rest and relax this weekend?
I definitely took the opportunity to just come here and rest. I just finished Jr. Worlds and my body was a little shot. It is a long trip and a lot of travel, so it was great that I had the opportunity to relax.
I'll take three days to rest now and then start training again for Japan.
Any last thoughts?
I'm happy I made the team! The national teams have been working with the team psychologist to get us mentally ready for the games. In a few days, it will be 100 days until the Olympics. That is when the push really starts to happen!
It's time to treat this like a professional and get going!
Spoken like a consummate professional!