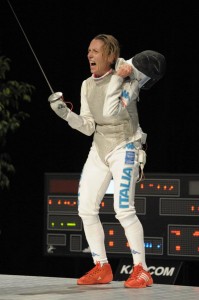 Women's Foil will pit 38 fencers into an incomplete elimination bracket of 64.  The top 26 fencers get byes to the round of 32.  After looking at the brackets (here), some notes:
Going through the brackets:
Top 4 seeds: Nam (KOR), Vezzali (ITA), Errigo (ITA), Di Francisca (ITA).
Hyun-Hee Nam (KOR) is the 2nd ranked fencer in the FIE standings and won silver at the 2008 Games.  She looks to have a top 16 match with either Nzingha Prescod (USA) or Aida Mohamed (HUN).  Neither have defeated Nam this year in competition.
Italy would love to match the US Women's Sabre team's 2008 accomplishment of a medal sweep.  With these brackets it is possible.
Inna Deriglazova (RUS) won the 2012 European Championships but is seeded 9th and will have to fight through Poland's Sylwia Gruchala to face Nam in the quarters.
Gruchala owns a victory against Nam, so look for that possible match-up in the quarter-finals.
In the 4/5 bracket, Elisa Di Francisca (ITA) is the favorite to advance to the semi-finals as she is a medal favorite and one of a handful of athletes to hold a winning record against Vezzali.  She looks to have a clear path to the semi-finals, depending on how 5th seed Corinne Maitre Jean (FRA) is fencing.
Moving to the bottom half of the bracket, the 3/6 features Arianna Errigo (ITA) and Lee Kiefer (USA).  Kiefer and Errigo have not fenced this season and provided that Kiefer can defeat Aida Shanaeva (RUS) they should meet in the quarter-finals.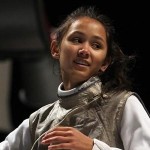 Lee Kiefer looks to be the spoiler and avenge her 15-10 loss to Vezzali at the 2011 World Championships.  If they both advance they would meet in the semi-finals.
Kiefer vs. Vezzali: Catania World Championships 2011

The final quarter of the bracket features Valentina Vezzali (ITA) and Astrid Guyart (FRA) in the 2nd and 7th spots.  Guyart does not have any recent bouts against any of this part of the bracket, save for a 2-0 record vs. Vezzali.
That should give Guyart confidence to advance through to Vezzali and feel good about the match.  Vezzali is going for something more than just a gold medal though – she's going to etch her name in history with 4 straight gold medal wins.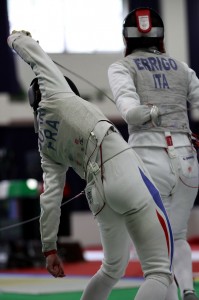 Odds favor a final 4 of Nam, Di Francisca, Errigo, and Vezzali.  Di Francisca and Nam should make the semi-finals out of their brackets, and Vezzali should squeak through against Guyart.  The match I'm most looking forward to will be Kiefer and Errigo.  Kiefer seems poised to make some noise these Games and hasn't been talked about much despite her world championship bronze.
Semi-Finals:
Vezzali def. Kiefer
Di Francisca def. Nam
Bronze: Kiefer vs. Nam.  Toss up.  Nam defeated Kiefer 15-12 in May – their only match this season.  My gut says Kiefer by 1.
Gold: Vezzali over Di Francisca
This is the most probable gold medal match, but not the most desirable for the broadcasters as ITA/ITA medal matches end up being long, grindy affairs with both fencers being conservative.
Di Francisca is looking to cement her position as Italy's next leader in Women's Foil.  Vezzali is focused on this tournament and her place in Italy's storied fencing history.
When Vezzali is focused, she is extremely difficult to beat and can work a faster game (as with Kiefer) or the slow, grindy game (as with Nam).
Predictions:
Gold: Vezzali (ITA)
Silver: Di Francisca (ITA)
Bronze: Kiefer (USA)