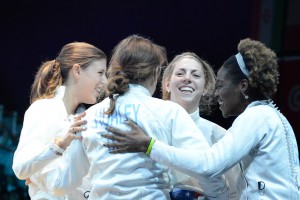 Everyone loves an underdog.  Entering into the 2012 Olympic Games, US Women's Epee Team had climbed up to fifth in the world – up from 16th after the 2008 Olympics.  They had taken silver in St. Maur earlier in the season. In spite of that, most countries still didn't take the Americans very seriously.  Well take note now:  The Americans have their first Olympic medal in women's team epee.
In a strange juxtaposition, China, South Korea, and USA were on the top, and Italy, Russia, and Germany were on the opposing side.  France didn't even make the cut for the women's Olympic epee team; my how times have changed.
Fencing.net caught up with Susie Scanlan after their improbable win in London.
Kevin: OK, tell me the truth….  How does it feel to be an Olympic Medalist?
Susie: HA!  The bronze medal feels awesome!
KM: How did you feel going into the competition?
SS: It was weird.  We felt pressure, but it wasn't any pressure from anyone else other than our self-made ones!
We had really grown as a squad over the last quad.  We started out 16th after Beijing and we had steadily grown over the past four years.  It was really helpful that Courtney [Hurley], Kelley [Hurley], and I had fenced a lot together over that time.
It was over this season though that we really bonded together as a team.  We had a silver medal in St. Maur and a fourth place finish when we lost by one touch in overtime to Poland in the semis and one touch to Italy in the bronze medal match in Leipzig.
On one hand it was disheartening to lose by one touch twice in the last qualifier before the Olympics, but it did show that we had resolve as a team and that we could fence with the best in the world.
KM: Talk to me about your team event that day.  Let's start with the quarter-final when you had your rematch with Italy whom you had lost the bronze in Leipzig.  
SS: Yeah, we had a quick rematch!  They were the last team that we had fenced for the Olympic qualifiers, so we had an opportunity to see what they were like.  We had fenced them plenty of other times before, but it was our most recent bout before the Olympics.
KM: Some would say that could be a mixed blessing.  Yes, you have seen them, but they had also seen you!
SS: HA!  Well that is right!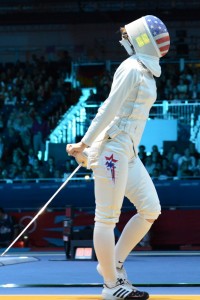 KM: In that bout, you were the set up for Courtney who was anchoring.  Maybe surprisingly, you beat Nathalie Moellhausen 5-3 for your first win against her.  What was your approach for that bout?
SS: I felt very comfortable in that bout, which is a little surprising since I am 0-3 against her.  I had to be comfortable with my point going forward.  One of the times in that bout, she doubled me because I was hesitating when I was going in for the touch.  Any hesitation in epee is going to kill you!
All I knew is that I wanted to beat her.  Nathalie and I have some history…
KM: Really?  Do tell!
SS: Well, at a world cup in Cuba in 2010, we were fencing and it was late in the second period and the score was 6-5.  Unfortunately, when I looked at the scoreboard said 6-4.
I asked her what she thought the score was and she said it was 6-5.  When they changed the score to 6-5, the Italian coach was up in arms about the score and referee asked her what she thought the score was again and this time she changed and said it was 6-4!
There is a tremendous difference in being down one touch and being down two touches, especially in a low scoring bout.  I felt like she didn't act honorably.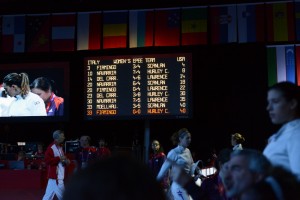 KM: A little bit of drama there!  Thankfully, you were able to beat them and then you moved on to South Korea.  How were you feeling then?
SS: We were excited, which in certain ways potentially led to us to losing.  We had been focusing on Russia and China that we didn't think about them.  We had only lost to them once in the quad, so in a certain way we had let down our guard a bit.
They went out and tried to get touches on us and we were hesitant about trying to get touches on them.
In the end, we ended up losing that bout.
KM: Now things get a interesting in the strategy going into the bronze medal bout.  Kelley Hurley, who was the replacement athlete, was substituted in for you.  What was the thought process there?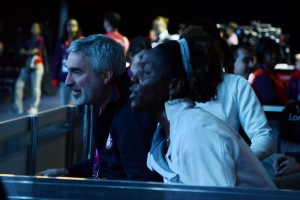 Well, we had actually strategized about this couple of days before the competition in case this happened.  Ro [Sobalvarro, US women's epee coach] had asked us what we thought we should do in a situation like this.
Kelley had been fencing very well all week and we knew that we were either going to have her in for two or all a three bouts if we got here.  Maya had been instrumental in the win that we had against Russia and I have been streaky with Anna Sivkova and  Lyubov Shutova.  In the end, we felt it was better to have Courtney fence all three bouts and I would be the reserve athlete.
KM: That probably threw them a bit.
SS: Maybe a bit!  It was funny because fencing for bronze can actually be a harder bout than for the gold.  When you fence for the bronze, you have already lost a bout and now you have to regroup and come back and refocus on getting a medal.
After our loss to South Korea, we all took a moment to ourselves and took a "break" of sorts.  When we came back together for the bout, we were very loose and joking around with each other!
I recall that before the bout with Russia, Courtney, who was anchoring, had said, "You know, I have a feeling that this is going to go into overtime."  How right she was!
In a certain regard, it was actually fortuitous for us that Russia went up a couple of touches early because then we had to fence up to try and catch up to them.  I think it helped us out in the long run.
KM: What was it like in the US team zone when the score was tied at 30-30?
SS: It was intense!  I remember that Kelley had her head in her lap and Maya had her head on my shoulder.  When Courtney tried to hit the first time and then hit on the second action, it was like everything just froze there for a moment: We just earned a Bronze Medal!  Not only was it a bronze medal, it was an Olympic bronze medal!  We had all kind of forgotten where we were!
We just stared at our light and froze there for a moment and then we all ran out and had to congratulate Courtney!  We did have a scare for a moment because the referee had said to Courtney to get back to the on guard line.  We were all scared that we actually didn't win and we would have fence another touch!  It turns out that all he wanted was for Courtney to salute.  Wheww!
KM: That had to be an incredible and magical moment for all of you to work that hard to get that reward!
SS: Absolutely!  All I could think of was a picture that we took during the '07-08 season when Courtney, Kelley, and I won Jr. Worlds and Kelley wrote "2012 Olympic Team" on the picture.  Who knew that it was going to be more than just the team, but the first medal for US women's epee also!