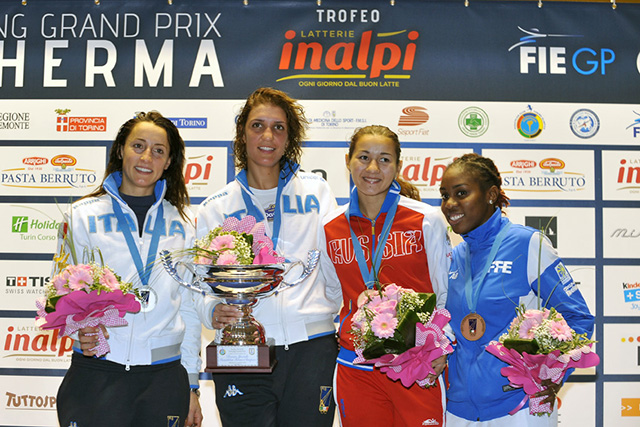 Arianna Errigo (ITA) won the initial Grand Prix of the FIE season, retaining her #1 world ranking by defeating teammate Elisa Di Francisca in the finals. In the top-8, Errigo defeated Jeon Hee Sook (KOR) 16-6, Anita Blaze (FRA) 15-4 and then in the finals posted a 15-7 score over Di Francisca.
Lee Kiefer led the way for the United States with an 11th place finish. Kiefer made her way to the top-16 with victories over Anne Sauer (GER) and Jacqueline Dubrovich (USA) before falling in the round of 16 to Malgorzata Wojtkowiak (POL) 11-10.
The bronze medalists were Anita Blaze (FRA) and Adelina Zagidullina (RUS)
Italy took the top 2 spots and had 4 fencers in the top 10 as Martina Batini and Valentina Vezzali took 9th and 10th for Italy.
Other US fencers earning FIE points were Margaret Lu (24th), Jacqueline Dubrovich (27th), Sabrina Massialas (32nd), Nicole Ross (47th), and Jessie Laffey (61st).
Russia placed 4 fencers in the top-16 while host Italy placed 6 in the top-16. No other country placed multiple fencers in the top-16 but fencers from Germany, Korea, France, Hungary, Poland and the USA were represented.
In the team event, the United States, seeded 6th, lost in the top-16 top Japan 23-22. After their loss, the USA defeated Mexico (45-20), Canada (37-30), and China (44-35) in the placement rounds to take 9th.
Italy won out the event, posting a commanding 45-35 victory over Russia in the final, which was the closest any team got to Italy all day.
Video for the Women's Foil Grand Prix is available via the Italian Fencing Federation's YouTube Channel. Here is their archived video feed of the Top-16:
Top 64 – 2014 Torino Women's Foil Grand Prix
| | | | |
| --- | --- | --- | --- |
| Place | Last | First | Country |
| 1 | DERIGLAZOVA | Inna | RUS |
| 2 | DI FRANCISCA | Elisa | ITA |
| 3 | ERRIGO | Arianna | ITA |
| 3 | IVANOVA | Anastasia | RUS |
| 5 | PRESCOD | Nzingha | USA |
| 6 | LIU | Yongshi | CHN |
| 7 | VEZZALI | Valentina | ITA |
| 8 | CINI | Chiara | ITA |
| 9 | GOLUBYTSKYI | Carolin | GER |
| 10 | GUYART | Astrid | FRA |
| 11 | MAITREJEAN | Corinne | FRA |
| 12 | THIBUS | Ysaora | FRA |
| 13 | BIRYUKOVA | Yulia | RUS |
| 14 | WAECHTER | Katja | GER |
| 15 | ROSS | Nicole | USA |
| 16 | BATINI | Martina | ITA |
| 17 | KOROBEYNIKOVA | Larisa | RUS |
| 18 | WANG | Chen | CHN |
| 19 | CHLEWINSKA | Karolina | POL |
| 20 | LELEYKO | Olga A. | UKR |
| 21 | DURANDO | Benedetta | ITA |
| 22 | OH | Ha Na | KOR |
| 23 | CHEN | Bingbing | CHN |
| 23 | SYNORADZKA | Martyna | POL |
| 25 | NISHIOKA | Shiho | JPN |
| 26 | WOJTKOWIAK | Malgorzata | POL |
| 27 | MYASNIKOVA | Tatiana | RUS |
| 28 | VARDARO | Elisa | ITA |
| 29 | JANG | Yeaseul | KOR |
| 30 | CIPRESSA | Erica | ITA |
| 31 | LU | Margaret | USA |
| 32 | VARGA | Gabriella | HUN |
| 33 | YAKOVLEVA | Diana | RUS |
| 34 | JEON | Hee Sook | KOR |
| 35 | ERBA | Carolina | ITA |
| 36 | BOUBAKRI | Ines | TUN |
| 37 | VOLPI | Alice | ITA |
| 38 | ZAGIDULLINA | Adelina | RUS |
| 39 | BLAZE | Anita | FRA |
| 40 | PALUMBO | Francesca | ITA |
| 41 | KNAPEK | Edina | HUN |
| 42 | SINYTA | Alexandra | UKR |
| 43 | CIPRIANI | Valentina | ITA |
| 44 | GEBET | Gaelle | FRA |
| 45 | STRANIERO | Stefania | ITA |
| 46 | MONACO | Beatrice | ITA |
| 47 | SAUER | Anne | GER |
| 48 | ALBOROVA | Yana | RUS |
| 49 | MIENVILLE | Julie | FRA |
| 50 | HUIN | Julie | FRA |
| 51 | NAM | Hyun Hee | KOR |
| 52 | RANVIER | Pauline | FRA |
| 53 | VARGA | Katalin | HUN |
| 54 | PIRIEVA | Leyla | RUS |
| 55 | HAMPEL | Eva | GER |
| 56 | CARACCIOLO | Claudia | ITA |
| 57 | HONG | Seo In | KOR |
| 58 | LE | Huilin | CHN |
| 59 | CAMMILLETTI | Marta | ITA |
| 60 | KIM | Mina | KOR |
| 61 | CALISSI | Olga Rachele | ITA |
| 62 | DE COSTANZO | Valentina | ITA |
| 63 | SAMSONOVA | Kristina | RUS |
| 64 | TAGLIAPIETRA | Maddalena | ITA |