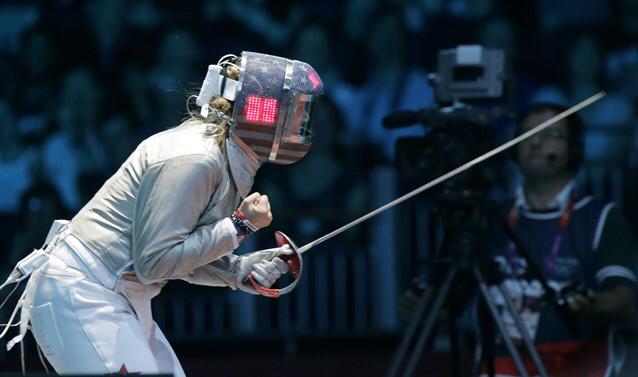 Ed. Note: Dagmara Wozniak will be writing a few pieces for Fencing.Net to give a look at the life of an athlete training and competing for a spot on the USA Fencing Team. You can support Dagmara via her Pursui.it fundraising campaign.
My New Years Resolution, to train harder than I ever have before, started with not stuffing my face.
Like in 2014, every day I promised myself to wake up and think about all the things I can do to make myself a stronger athlete. Some days the focus will be nutrition, some days the physical, other days it's being stronger mentally.
It's a never ending pursuit to be the best… For the most part, my decisions have pushed me in the right direction. But sometimes, I have serious moments of doubt that attempt to break my spirit with regret. What can we do in these moments?
People came up to me after I fenced in NYC at the Grand Prix and commended me on my bout against one of the top fencers, Sofiya Velikaya, a bout I lost 15-14. That day, when I stepped off the strip, I couldn't help but think about all the practices, good and bad, all the training sessions, all the physical therapy to help prepare so far ahead of this competition. It was unnerving to come so close and lose by one bout, a mere split second.
In these moments, we can think about that one touch, that could have changed the whole outcome of the day, and we can focus on"what did I do wrong?" It is so easy to be negative and hard on yourself, but that day, and every day in 2015, I refuse to let this mindset settle in.
I'm always trying to find ways to inspire myself to keep going, iand to stay motivated. Sometimes that means going home early from a party, or putting down the cheesy bread when out to dinner.
Yes, it is sacrifice and dedication, but when I think of the 2016 Olympics, I know it is all worth it. In 2008, the Beijing Olympics were bittersweet, as I was held in reserve and could not share the medal with my team. At the London 2012 Olympics, I felt like I was flying, but went home 8th. In 2016, I will have stronger wings, and a release for the passion to be the best, a 4 year pursuit, that will be so sweet and worth it.
What motivates you to push harder this New Year?
##############
Dagmara Wozniak was a reserve athlete for the 2008 Olympic Games and competed in the London 2012 Olympic Games. She is training to make the US team again to compete at the 2016 Rio Olympics. Please support Dagmara's training goals by donating to her training fund on Pursu.it here: https://www.pursu.it/pursuit/campaign/79 .