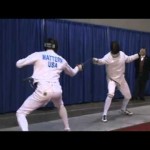 Seth Kelsey defeated Cody Mattern to win the Division I Men's Epee event at the Atlanta North American Cup (NAC) the weekend of December 17th, 2010.
Fencing.Net member CyrusofChaos was there taking videos of many of the matches and he provided the video of the gold medal bout.
Part One:
Cody Mattern is on the left, Seth Kelsey on the right.
Part Two:
More discussion of the video is here on the forum: [link].