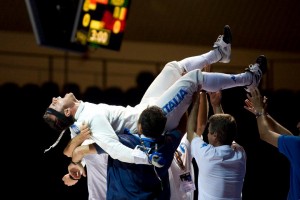 Looking back on the 2011 Fencing World Championships, we have this analysis of the gold medal bout for Men's Individual Epee written by Leland Guillemin.
In the Men's Individual epee final, we had the privilege to spectate a back-and-forth match between Bas Verwijlen from Netherlands and Paolo Pizzo fencing for Italy. This was the first appearance in a World Championship final for both fencers meaning we would be blessed with a brand new Champion!
From the 9th to the 16th of October the Fencing World Championships were held in Catania, Italy.
Bas Verwijlen went into the final match riding heavy momentum. He breezed through Venezuela's Ruben Limardo, winning 15-8 in the quarterfinal and held onto a huge 8-1 early lead to win the semi-final match versus Kyoung Doo Park from Korea by a score of 15-11.
Paolo Pizzo earned his spot in the finals by disposing of some of the best talent Men's Epee had to offer. He defeated Hungary's Geza Imre in the quarterfinals 15-11 and then Switzerland's Fabian Kauter 15-13 in a very exciting fast paced match. Paolo was looking to solve the Verwijlen puzzle, a puzzle that no other fencer, that day, had been able to solve.
Watch the bout here, and read more analysis after the jump:
First Period
Bas began the bout by fencing very defensively, drawing Paolo Pizzo's attacks prior to executing crisp parry ripostes. This tactic pulled Bas to an early 4-0 lead. Moral rose for those cheering for the Netherland's fencer, as this lead was remarkably similar to Bas' previous bout against Kyoung Doo Park in the semi-final matchup.
Hoping to capitalize on an early lead, Bas switched his tactics and launched an attack into Paolo's defence. Paolo was not caught off guard by this surprise attack and responded appropriately with a parry-riposte of his own. Continuing to stray from a working tactic, Bas Verwijlen attacked into Paolo 3 more times, in a row, all with the same result. With the score tied at 4 hits each, Paolo began to apply pressure to Bas looking to wear on Bas' patience and nerves. This tactic proved to be successful, drawing Bas' attack once again and following up with a fleche to score a double touché.
Bas, realizing that he was not scoring when he attacked, switched back to relying on his defence. Paolo, however, anticipated the switch back to parrying and lunged with his arm pulled back – only to extend after Bas' parry found nothing. Having found an action that seemed to be successful, Paolo saved the move and continued to apply pressure to his opponent.
The two fencers got into an intense blade exchange, but Paolo, using his smaller size, was able to get in closer and win the exchange to push his lead by two hits. The next action Paolo's pressure got the best of Bas again, as Bas attempted a direct attack that was quickly defended by Paolo. A quick riposte added another touché to further the score, 8-5 in favour of the Italian.
Both fencers remained passive in the dying seconds of the first period, looking to use the one minute period break to reflect and readjust their tactics and strategy. For the Netherland fencer, Bas, staying patient and defensive had been his key to success in the first period, anytime he initiated an attack he ended up being scored on. For the Italian fencer, Paolo, putting pressure on his Bas Verwijlen and forcing a direct attack was his best tactic.
Second Period
The second period began with both fencers playing disciplined to their successful actions from the first period. Bas scored the first touch, Paolo attacked, Bas replied with another parry-riposte. Paolo let off the pressure and for the first time in the bout, the fencers moved into the Italian's zone. With Bas pushing Paolo back, Paolo tried to catch Bas' timing with a direct attack but his action was met with another successful parry-riposte. The score was 8-7 for Paolo.
Paolo immediately took control off the 'en guarde' line and began to push Bas back. Paolo set up an advance lunge with a late disengage attempting to get around Bas' parry, but Bas didn't fall for the bait and counter attacked for a double touché. Again Paolo was quick to shorten the distance between the two fencers, really looking to make Bas uncomfortable and edgy enough to attack.
Bas did eventually attack, Paolo parried the attack but his riposte landed right into Bas' second intention parry-riposte to tie the bout at 9 hits each. The bout moved back to the end of Bas' side of the piste. Paolo utilized many feints and half steps provoking an attack by Bas. Paolo easily evaded the attack and scored with a direct riposte of his own. It appeared that both fencers' nerves were wearing thin as they both were having difficulty staying disciplined to their tactics.
Paolo took his turn being undisciplined as he did another direct attack into the, so far extremely successful, parry-riposte of Bas Verwijlen. Following suit, Bas strayed from his tactic and attempted another unsuccessful direct attack into Paolo's, also extremely successful, parry-riposte. The score, back in the favour of the Italian, was 11-10. Bas' coach (and father) was not happy.
It appeared that whoever attacked would fail, resulting in a touché scored for the defender. When it looked grim for Bas Verwijlen to attack, he proved the spectators wrong and scored on a direct attack to Paolo's underarm to tie the match, for the third time. Paolo, feeling that Bas got lucky on the previous action, maintained his game plan and pushed Bas to the end of the piste. Bas, maybe hoping that his direct attacks would now work, attacked to Paolo's chest. Paolo, ready for Bas' attack, scored his 12th touché on another parry-riposte action.  The intensity ramped up, as every mistake made left very little room for recovery.
The fencers battled and attacked at the same time getting caught up in each other's action, Bas tried desperately to score a touché as Paolo attempted to block out Bas. Paolo turned his back around and into Bas hoping this would stop Bas from hitting him, but Bas scored and Paolo was charged with a yellow card for turning his back. The score was 12-12 with a yellow card in Paolo's name. Another infraction from Paolo would give Bas a point and, at this stage of the match, could cost Paolo the gold medal. Paolo, eager to regain the lead, marched down the piste and scored a touché using a delayed extension with his lunge, which he had used in the first period, to secure his 13th point. Bas, refusing to give ground on the next hit, attacked into Paolo and scoring with a direct attack bringing the Men's Epee Individual final score to 13 hits each. With only 8 seconds remaining in the second period, both fencers opted to not initiate and let the period run out.
Third Period
The final minute break gave the fencers an opportunity to regain discipline and self-control as each fencer only needed two hits to bring home the Gold medal and be crowned as the current World Champion. The, primarily Italian, crowd was silent in anticipation as the third period was underway. It took only 28 seconds for Bas to stray from his parry-riposte tactic and to attack directly into Paolo Pizzo. The attack wasn't very controlled and Bas didn't even have his arm fully extended.
Call it nerves, call it lucky, it gave Paolo the last lead he would need to win the Gold medal. Paolo looked calm and controlled at the 'en guarde' line, he needed only one touché to bring Gold to the hosting country. He pressured Bas and pulled out a beautiful advance lunge with a late extension to completely avoid Bas' parry and score the final touché of the Men's Individual Epee World Championships.
Final Analysis: Discipline, Nerves
Lack of discipline proved to be the main cause for errors in a very exciting Gold medal match. Both fencers were incredible in their defence, but straying from the defensive actions mostly resulted in a touch scored for the opponent. Paolo, however, scored early in the first period with a late extension lunge that entirely evaded Bas' parry. Paolo held on to that action and only pulled it out two more times at perfect situations. He saved it for when it really mattered, to take a late lead and using it as the final action to win the Gold medal.  Paolo's crafty attack ended up being the missing piece to the Bas Verwijlen puzzle.
Congratulations to both fencers for fencing a very exciting Gold medal match and for posting the best results of their respective careers.