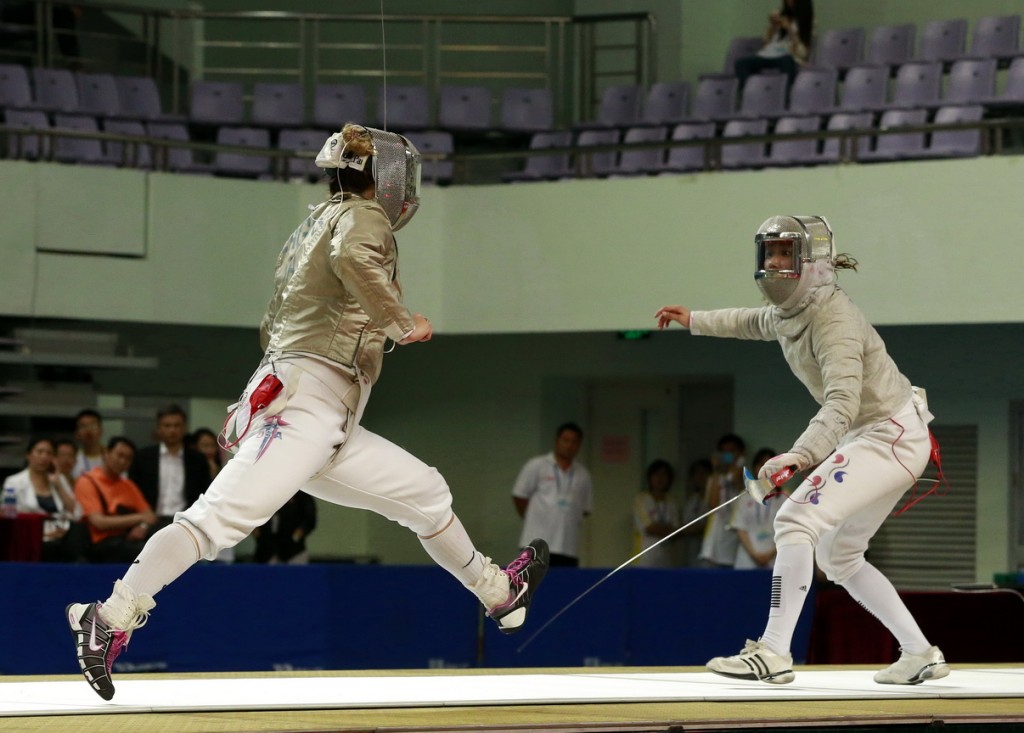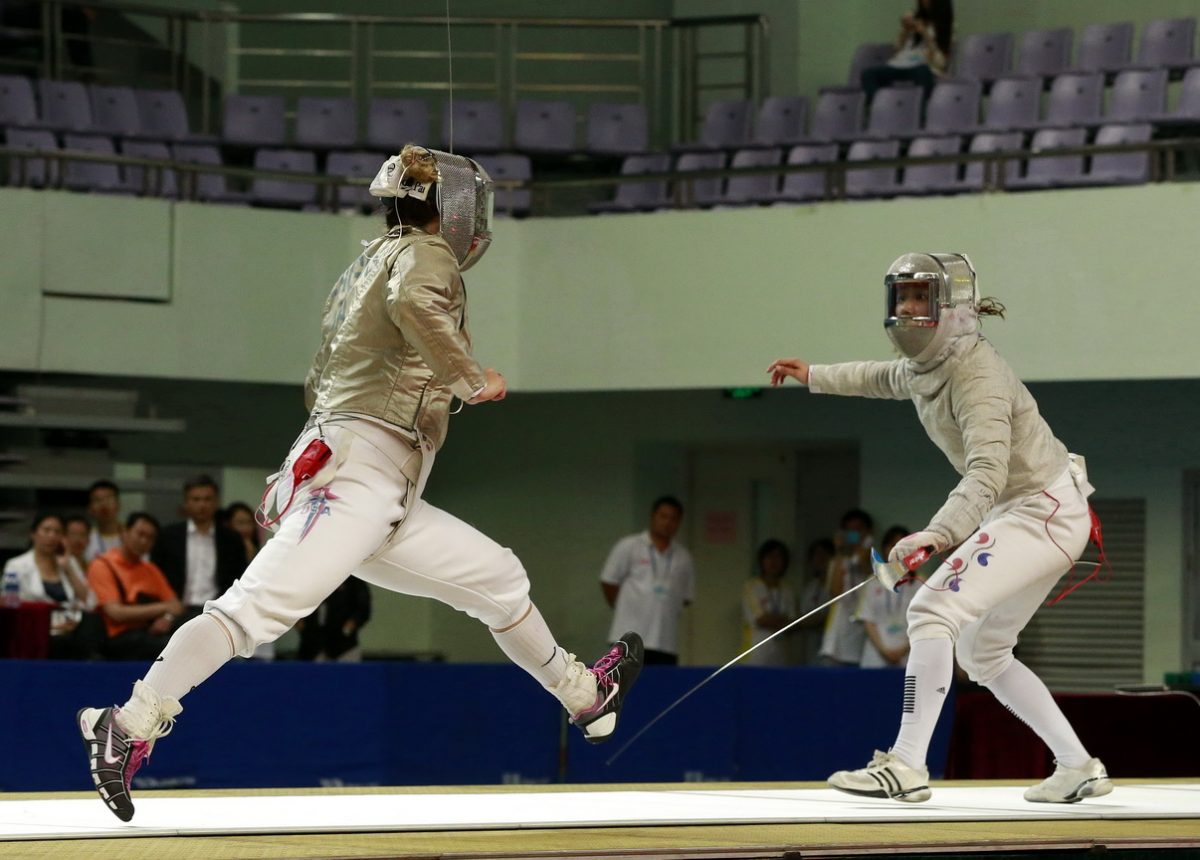 This past weekend was full of heated fencing competition, and the Coupe du Monde Women's Sabre Grand Prix in Tianjin and Jockey Club Argentino Men's Epee World Cup in Buenos Aires were no exception, especially as the last Team USA qualifying events of the season. Mariel Zagunis (USA) claimed her sixth individual medal of the season, while Ruben Limardo Gascon (VEN) won gold and bumped Max Heinzer (SUI) from the top spot in the Men's Epee world rankings. 
Along with Zagunis, Dagmara Wozniak and Ibtihaj Muhammad had already secured their positions on the 2013 Senior World Team before coming into the Grand Prix individual event. The final fourth spot remained up for contention between three eligible American fencers.
Eliza Stone was ranked fourth in the U.S. Team Point Standings at the start of the tournament, but could be passed by Sage Palmedo if she posted a top 16 result. Monica Aksamit would require a gold medal to pass both and join Team USA at Senior Worlds. Palmedo was dropped from contention after a rough 1-4 result in pools on Friday that eliminated her from Saturday's events. In the table of 64 Stone upset the 5th seeded Aleksandra Socha (POL) 15-11, and Aksamit defeated Xin Zhang (CHN) 15-9.
Stone fenced Sabina Mikina (AZE) in the table of 32 and won 15-5, but lost to Jisu Yoon (KOR) 15-13 in the table of 16, finishing 16th overall.  Aksamit was matched against Dina Galiakbarova (RUS) in the table of 32 lost in a close 15-14 match, finishing 29th overall and leaving only Stone to claim the open Team USA spot. Galiakbarova continued on against Irene Vecchi (ITA) in the table of 16, winning another close 15-14 bout.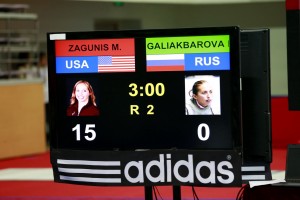 Initially seeded 2nd, Zagunis began Saturday with a close 15-14 bout against Jaeyeun You (KOR) in the table of 64. She recouped and won her bout 15-9 against Elizaveta Kiryanova (RUS) in the table of 32 and went on to the table of 16 to beat Huixian Liang (CHN) 15-6.
The American was on fire, and her win streak continued into the quarter finals by surprising everyone with a 15-0 victory over Galiakbarova.  She cooled off some in the semifinals, but overcame Jiyeon Kim (KOR) 15-13.
Ultimately Ekaterina Dyachenko (RUS) upset the American, claiming gold with a 15-11 win.
Meanwhile, in Argentina
At the start of competition day, Soren Thompson was the only men's epeeist who had secured a position on Team USA's Senior Worlds team. Five other eligible fencers joined him at the World Cup in Buenos Aires to claim the other three spots up for contention.
Alexander Tsinis, who held the 2nd highest position in U.S. point standings, made it through preliminary pools and his first DE but lost the second to Yuval Shalom Freilich (ISR). His Team USA spot depended now on how the others preformed on Saturday.
To break into the top 4 spot, Samuel Freiman would need a silver medal finish.  He upset Thompson in a close 15-14 match in the table of 64 but finished 31st after a 15-14 loss to Alexey Tikhomriov (RUS), falling out of contention. Jonathan Yergler required a top 32 finish to acquire a spot on Team USA, but lost to Dmitriy Karuchenko (UKR) 15-11 in the table of 64.
Their losses meant that Tsinis, Jason Pryor, and Adam Watson would retain their 2nd 3rd and 4th rankings and join Thompson at the Senior Worlds and Pan Am games.
Watson and Pryor were eliminated in the table of 64. Watson lost 15-13 to Radoslaw Zawrotniak (POL) while Pryor lost to Sergey Khodos (RUS), also 15-13.
Khodos went on to fence Heinzer, losing 15-8 in the table of 32. Heinzer then went up against Anton Avdeev (RUS) and won 15-6. He then faced a major upset in the quarter finals, losing to 45th seed Norman Ackermann (GER) 15-11. Ackermann lost in the semifinals in a close 12-10 match to Jiri Beran (CZE). Zawrotniak's winning streak took him from Watson to the semifinals, where he lost to Ruben Limardo Gascon 15-12.
Gascon defeated Beran in the finals in a nail-biting 15-14 finish, the gold medal granting him the top spot in world rankings for the season's close.
FIE Results: Tianjin Women's Sabre
FIE Results: Buenos Aires Men's Epee