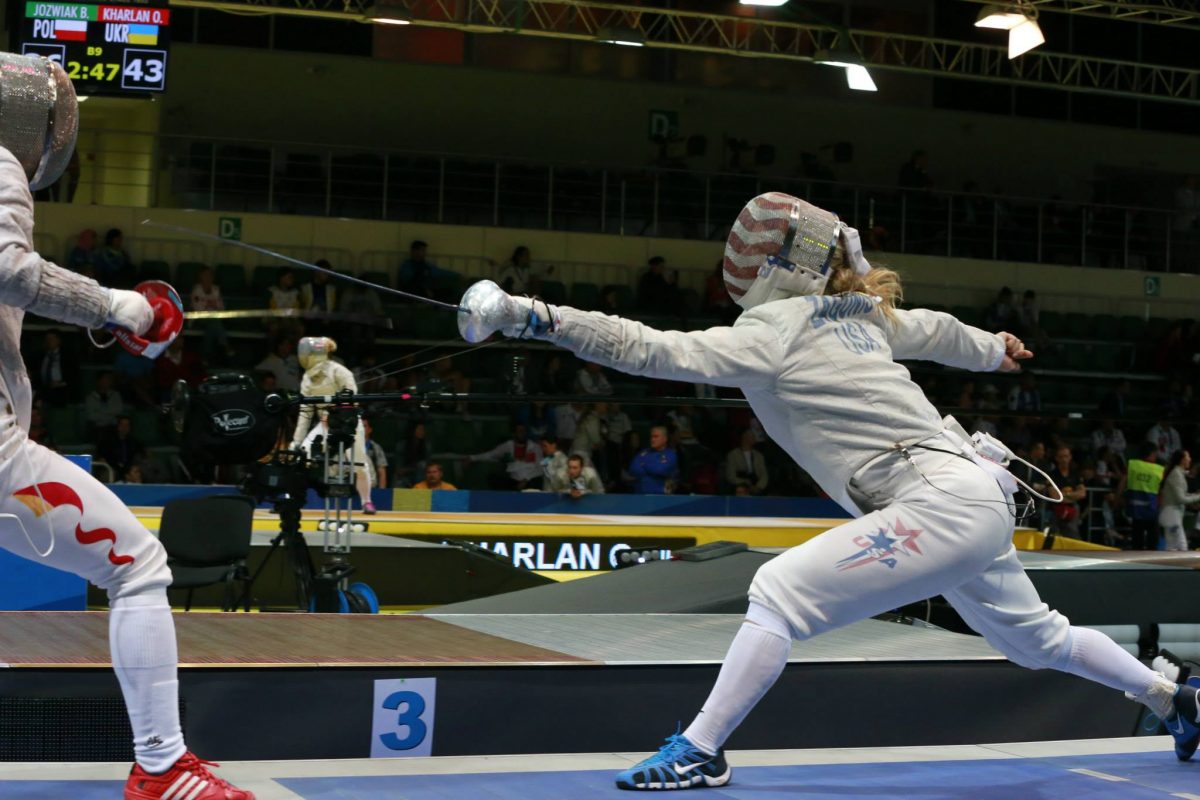 Mariel Zagunis was named the USOC Female Athlete of the Month for July following her silver medal finish in individual and gold in team at the 2014 Fencing World Championships. Men's foilist Gerek Meinhardt and the US Women's Sabre team were nominees for July honors as well.
COLORADO SPRINGS, Colo. – Top performances throughout July earned Mariel Zagunis (Beaverton, Oregon) and Kendal Williams (Jacksonville, Florida) Athlete of the Month recognition, while the U.S. Women's National Goalball Team received Team of the Month honors, the United States Olympic Committee announced today.
Zagunis captured the silver medal at the FIE Senior World Championships, held July 5-23 in Kazan, Russia, and finished the season as the No. 2 ranked women's saber fencer in the world. Zagunis also anchored the U.S. women's saber team to the gold medal – the third in the team's history and its first since 2005.
Williams clinched two gold medals in the 100-meter and 4×100 at the IAAF World Junior Championships, held July 22-27 in Eugene, Oregon. Williams clocked 10.21 in the men's 100 for his second lifetime best of the championships, and he finished with the third-fastest 4×100 time in world junior championships history.
The U.S. Women's National Goalball Team claimed the gold medal at the International Blind Sports Federation World Goalball Championships, held June 30-July 5 in Espoo, Finland, earning a qualification berth for the Rio 2016 Paralympic Games. The U.S. is the only women's team to medal in each of the previous three IBSA World Goalball Championships.
Triathlete Gwen Jorgensen (St. Paul, Minnesota) finished runner-up and softball player Valerie Arioto (Pleasanton, California) claimed third in the female vote. On the men's side, Para-cyclist Will Groulx (Portland, Oregon) and gymnast Jeffrey Gluckstein (Atlantic Highlands, New Jersey) earned second and third place. The U.S. Men's Junior National 4×100 Team finished second, while the U.S. Women's U17 National Basketball Team finished third in the team category.
Each National Governing Body may nominate one female, one male and one team per discipline. A voting panel selects the winners from the pool of nominees with online fan voting via Twitter accounting for 10 percent of the total vote.
FEMALE
1. Mariel Zagunis, Fencing
2. Gwen Jorgensen, Triathlon
3. Valerie Arioto, Softball
MALE
1. Kendal Williams, Track & Field
2. Will Groulx, Para-cycling
3. Jeffrey Gluckstein, Gymnastics
TEAM
1. U.S. Women's National Team, Goalball
2. U.S. Men's Junior National 4×100-meter Team, Track & Field
3. U.S. Women's National U17 Team, Basketball