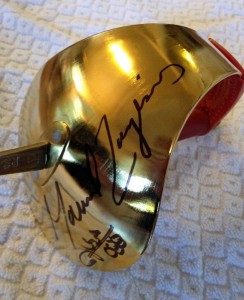 Mariel Zagunis is working to benefit the Leukemia & Lymphoma Society's Woman of the Year Campaign. She donated a signed sabre and posted to be auctioned on eBay with the proceeds going towards the LLS and blood cancer research.
The auction started out at $0.99 but on the last day of bidding raced from under $100 to $661 for the winning bid.
The Leukemia & Lymphoma Society's Man & Woman of the Year (MWOY) campaign is a fundraising competition in communities across the U.S. in which participants vie for the title of Man or Woman of the Year. They raise funds for blood cancer research in honor of local children who are blood cancer survivors, the Boy & Girl of the Year. The titles are awarded to the men and women in each community who raise the most funds during the ten-week campaign; the top local fundraisers in the country also win the national titles. Learn more here.