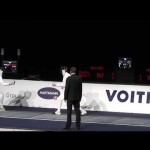 Bogdan Nikishin (UKR) won his first event of the 2013-2014 World Cup season at the 2014 Heidenheim World Cup. This brings him to five Top-Eight finishes of the seven tournaments on the Men's Epee circuit he's competed in, with three of them being Top-Four results. He is currently ranked 5th in FIE World Rankings, only two points behind Max Heinzer (SUI).
Nikishin began his day in the Table of 64 taking on #12 seed Sergey Bida (RUS), where he won 14-8. He went on to beat #27 seed Bas Verwijlen (NED) 15-9 and then #22 seed Chengjie Zhang 7-5 to make it into the Top 8. There he beat #3 seed Fabian Kauter (SUI) 15-13 to fence #23 seed Jiri Beran (CZE). The bout was close, but the Ukrainian won 15-14 to advance to the finals.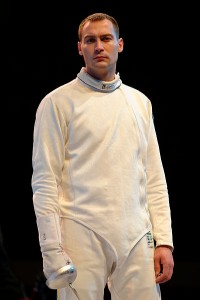 Nikishin's day could be compared as a cakewalk compared to Andras Redli (HUN), who he met in the finals. Redli was not among the Top 16 who were exempted from pools. Redli was seeded 59th after pools and made an early statement by pulling a 15-13 win over Ievgen Myrgorodskyi (UKR). He then upset Enrico Garozzo (ITA), the #10 seed, winning 15-12. Luck continued for the Hungarian as he took on Myrgorodskyi's teammate Igor Reizlin (UKR) and made it out with a 7-6 win to enter the Top 8. His impressive run continued by besting #2 seed Nikolai Novosjolov (EST) 6-5, and then easily leading #6 seed Silvio Fernandez (VEN) 14-9 to join Nikishin in the finals, where he would finally fall to his third Ukrainian matchup of the day 7-3.
The finals were intriguing with low-scores that don't seem totally out of place until you actually watch the video (linked below). The bout began with traditional epee slowness. After no touch with 1:54 remaining in the first period, non-combativity was called and they moved immediately into the second period. Nikishin got a pick while Redli was stepping back, which led to the Hungarian becoming more aggressive with his actions now that there was a score on the box. Redli pushed the Ukraine fencer into his warning box and fleched- but no light. He was however able to bring the score 1-1 with a well-timed attack to the body thereafter. From then out Redli's movements became much quicker, jumping in and out of distance with beats while Nikishin made slower but more steady movements forward with little change in distance of his advances.
They went back and forth until non-combativity was called again with fifty seconds remaining in the period. Moving into the third period, Redli noticeably slowed down his advances and retreats. Nikishin attempted to startle him off guard by tapping his front foot loudly on the strip, but didn't get the reaction he wanted. With the score still 1-1, the fencers would go back and forth in tempo until Nikishin would walk backwards a bit and they would reset their position.
Non-combativity, likely what the fencers wanted, was called with a little less than two minutes remaining. Referee then proceeded to put a last minute of fencing on the clock, where no one made a touch until the last twenty-five seconds on this period. Nikishin received three single lights in a row, capitalizing on Redli's growing need to charge down the strip at him in attempts to score. At 1-4, with Redli clearly frustrated, Nikishin stopped him to give him a quick hug. They then doubled out with ten seconds remaining, followed by another single light for the Ukraine. At this point the crowd was starting to stand and cheer and the fencers double out again at four seconds remaining that they do not actively fence to end the bout.
After Nikishin had brought the score to 1-2 with such little time left, Redli should have quickly thought of a way to bring the score back 2-2 even if it ate up on the rest of the time. It was the second single light that brought it to 1-3 by Nikishin that was the Hungarian's undoing, and after that he was forced to charge in hopes of quickly getting a touch. Nikishin, remaining calm was able to keep his lead and defend against the inevitable incoming quick attacks that led to his victory.
Redli wasn't the only one causing upsets, however. #1 FIE World Ranking Ruben Limardo Gascon (VEN) easily made it to the Table of 32 after beating #15 seed Sangmin Kim (KOR) 14-8. Things after, however, soured. After winning 15-10 in his Table of 64 matchup against Valeriy Zharskyy (UKR), Kim's teammate and #4 seeded Sangyoung Park (KOR) handed Gascon a loss of 15-9. Park went on to fence Jun Ni (CHN), where he won 15-10 to make it into the Top 8. There he fell to Beran 14-13, who went on to fence Nikishin.
Top 8 Results:
1 Bogdan Nikishin (UKR)
2 Redli Andras (HUN)
3 Silvio Fernandez (VEN)
3 Jiri Beran (CZE)
5 Nicolai Novosjolov (EST)
6 Fabian Kauter (SUI)
7 Park Sang Young (KOR)
8 Norman Ackermann (GER)
Full Results can be viewed here.
FIE Full Table of 64 can be viewed here.
YouTube Channel with many videos of the DEs can be seen here.
Discussion at Fencing.net Forums